February 07, 2006
Don't Play Around With That Funky Cold Medina
An aphrodisiac soda? That's what
this stuff
is marketed as.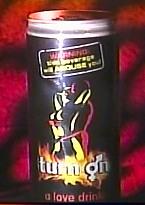 It's called "Turn On" and it promises to make the person who drinks it...um, good to go.
The soda was banned in France and Denmark, but makers insist it is safe and works as an aphrodisiac.

People who have tested the soda said it tastes like cherry soda.

"We watched a film and then afterwards I felt like my senses were more like turned on, like I could feel more, I felt more on my skin," a tester said.

Doctors have already warned that the drink is not for everyone. Children, pregnant women and people with high blood pressure and diabetes should avoid the drink, according to the report.

A warning label on the can claims, "This beverage will arouse you."
I'm a little skeptical here. It's probably more of a psychological effect than anything else. Wonder what the tester would have said if what they gave them was real cherry soda? Still, if you're thinking of trying it you might want to give it to the dog first. And if he does the "Wild Thing" on your leg...well, you know the rest.
Posted by: Gary at 11:00 AM | No Comments | Add Comment
Post contains 207 words, total size 1 kb.
Comments are disabled. Post is locked.
14kb generated in CPU 0.014, elapsed 0.0691 seconds.
112 queries taking 0.0611 seconds, 227 records returned.
Powered by Minx 1.1.6c-pink.