October 15, 2006
What I'm Reading Now
Just cracked open my copy of Jim Geraghty's new book
"Voting To Kill: How 9/11 Launched the Era of Republican Leadership"
. Now, I became an ex-donkey back in 1998. However, many made this decision after September 11, 2001. But it comes down to one similar experience: an epiphany that the leadership of the modern Democrat party really has their heads up their collective asses and what passes for a typical Democrat politician today would make John F. Kennedy turn over in his grave.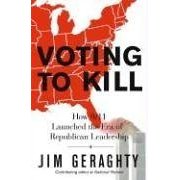 For a lot of people, what they witnessed in their own country as the Global War On Terror unfolded sickened them: an entire political party that believed their own President was the enemy rather than the psycho Islamo-fascists that want to destroy us.
Should make more interesting reading, especially in the run up to November 7th. I'll review when I'm finished. In the meantime, Kathryn Jean Lopez of NRO interviews Jim (also an NRO contributor) about the book.
Posted by: Gary at 09:00 PM | No Comments | Add Comment
Post contains 169 words, total size 1 kb.
May 09, 2006
Painting The Map Red
Go over to
The Real Ugly American
for an extensive review of Hugh Hewitt's new book,
"Painting The Map Red"
. Rick incorporates part of an interview he had with Hewitt to examine what the GOP needs to do to increase its majority and break the 50/50 Electoral deadlock we've seen in the last two Presidential elections.
I own the book and it's next in line for me to read. This post makes me want to get to it faster!
Posted by: Gary at 02:29 PM | No Comments | Add Comment
Post contains 87 words, total size 1 kb.
February 10, 2006
What I'm Reading Now
Over the last six months or so, I've been focused on blogging
The Lord of the Rings
over my other site:
Tolkien Geek
. It's a project that took me way longer than I expected. And it kept me from getting to a slew of other books that I've been wanting to read.
Now that it's pretty much done, I plan on hitting the ground running. And I'm starting with: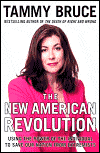 The New American Revolution, by Tammy Bruce
For a long time now, the Left has been pushing their Liberal agenda and Political Correctness down out throats, demanding that we sacrifice our individuality to their groupthink. Well, since Sept. 11, the rest of America is tired of it and we're not going to take it anymore! Bruce excoriates the Left (where she once resided) and explains how the nation is currently undergoing a "New American Revolution".
Click "More" to see the other books on my current list (in no particular order): more...
Posted by: Gary at 11:10 AM | Comments (1) | Add Comment
Post contains 594 words, total size 6 kb.
November 16, 2005
Tammy Bruce Interview
If you're not familiar with best-selling author and radio personality Tammy Bruce, you should be. A self-decribed "pro-choice lesbian feminist", she currently has a book out called
"The New American Revolution"
.
John Hawkins at Right Wing News interviewed her and the transcript is here. She has a fascinating analysis of the "hate-America first" Left based on her personal experiences. Tammy is considered by many to be a voice of the Right, but she started her political activism on the Left. Her personal philosophy, which emphasizes individualism and personal responsibility, became too incompatible with the "collectivist" mentality of American Liberalism. Upon reflection, she admits she's still not quite used to being labeled a Conservative:
"...itÂ's still odd that IÂ'm now considered a conservative, but thatÂ's because the left has gone so far to the left theyÂ're fascists.

So someone like me is considered a conservative and it comes down to being willing to accept -- and IÂ've discussed labels in the book as well -- be willing to accept what youÂ're called but also be clear for yourself about what you really are. In todayÂ's day and age, I am a conservative, in the sense of what that stands for. TodayÂ's conservative is yesterdayÂ's classical liberal and IÂ'm determined to try to help make that label more popular, more broad, more accepted, and more understood and I hope IÂ'm doing a good job. "
The whole thing is definitely worth a read. Tammy's blog can be found here.
Posted by: Gary at 04:45 PM | Comments (2) | Add Comment
Post contains 252 words, total size 2 kb.
20kb generated in CPU 0.0231, elapsed 0.0924 seconds.
113 queries taking 0.0774 seconds, 216 records returned.
Powered by Minx 1.1.6c-pink.