October 15, 2006
What I'm Reading Now
Just cracked open my copy of Jim Geraghty's new book
"Voting To Kill: How 9/11 Launched the Era of Republican Leadership"
. Now, I became an ex-donkey back in 1998. However, many made this decision after September 11, 2001. But it comes down to one similar experience: an epiphany that the leadership of the modern Democrat party really has their heads up their collective asses and what passes for a typical Democrat politician today would make John F. Kennedy turn over in his grave.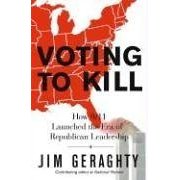 For a lot of people, what they witnessed in their own country as the Global War On Terror unfolded sickened them: an entire political party that believed their own President was the enemy rather than the psycho Islamo-fascists that want to destroy us.
Should make more interesting reading, especially in the run up to November 7th. I'll review when I'm finished. In the meantime, Kathryn Jean Lopez of NRO interviews Jim (also an NRO contributor) about the book.
Posted by: Gary at 09:00 PM | No Comments | Add Comment
Post contains 169 words, total size 1 kb.
12kb generated in CPU 0.0134, elapsed 0.0612 seconds.
111 queries taking 0.0539 seconds, 206 records returned.
Powered by Minx 1.1.6c-pink.