May 12, 2006
Scarlett Names Her Boobs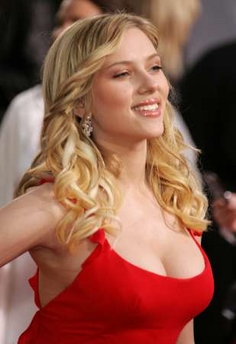 Yes, she has a pet name for them.
Scarlett Johansson has revealed her pet name for her boobs is "My Girls".

The Match Point actress said: "I like my body and face and I love my breasts - 'My Girls'."

The actress also revealed she is not looking forward to getting old uses anti-ageing cream.

According to The Sun she added: "I never want to look like an old bag".
I've got pet names for them, too: "just" and "right".
The 21-year-old actress has a while yet before she has to worry about getting old. But sooner or later, we'll be looking at two old bags. In the meantime, however, she probably ought to be spending her time working on her acting skills.
Posted by: Gary at 12:41 PM | No Comments | Add Comment
Post contains 129 words, total size 1 kb.
May 05, 2006
It's Friday "WTF?" - A Multi-Purpose Tool
Painter
uses his johnson to paint a portrait
of Australian PM
John Howard
.
Tim Patch also used his penis to paint opposition leader Kim Beazley, reports the Sydney Morning Herald.

He unveiled both portraits at the opening of the Sexpo exhibition in Perth.

Mr Patch, from Queensland, admitted his family were a little surprised by his new painting technique.

He said: "My dad is not too impressed. He shook his head and said: "Oh dear, oh dear, oh dear"."
That's right, Dad. All that money you spent to send Timmy to art school really paid off.
Posted by: Gary at 08:31 AM | Comments (1) | Add Comment
Post contains 108 words, total size 1 kb.
16kb generated in CPU 0.0148, elapsed 0.0749 seconds.
113 queries taking 0.066 seconds, 229 records returned.
Powered by Minx 1.1.6c-pink.