November 21, 2006
How's This For A Conversation Piece?
Imagine this in the center of your Thanksgiving table: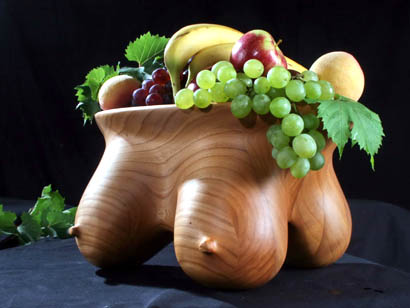 This is from a Dutch carpenter whose work is on display in an art gallery in Germany.
Cabinet maker Mario Philippona designed a range of stylish wooden cupboards, wardrobes and tables using the female anatomy as his inspiration.

His newest piece is a fruit bowl decorated with realistically shaped life-size wooden breasts called 'TittyFruity'.

Other pieces include a wine-glass cupboard in the shape of a pair of large breasts, a table supported by legs moulded from a female model and a bedside drawer which opens by pressing a button in the piece's 'vagina'.

Philippona said: "The shape of a woman, her organic architecture, combined with my passion for wood inspired me to sculpt these sexy designs."
I can hear dear old Uncle Gus as he passes the cranberry sauce, "Just look at them sweet potaters! Haw, Haw, Haw!"
At least it gives us guys a little reminder of what to be thankful for. :-)
OK, it's a slow news week...
Posted by: Gary at 11:00 AM | Comments (4) | Add Comment
Post contains 179 words, total size 1 kb.
November 20, 2006
Happy Monday!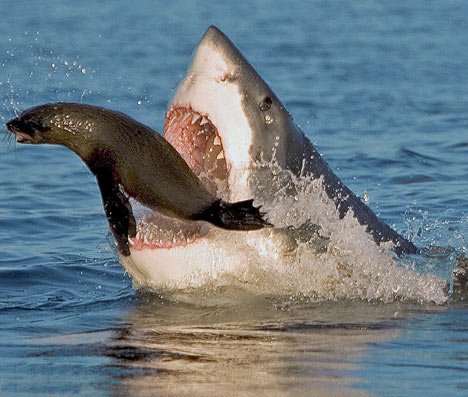 Yeah, sometimes you're the cute little Cape Fur seal, sometimes you're the giant razor-toothed man-eating Great White shark.
Posted by: Gary at 10:22 AM | Comments (2) | Add Comment
Post contains 22 words, total size 1 kb.
November 17, 2006
Star Wars Geeks Demand Recognition From UN
Apparently, "Jedi" is the fourth largest religion in the UK.
OK, did I just write that? The fourth freaking largest religion in the United Kingdom!!!! Are you kidding me? No, I guess they're not.
'We therefore are calling upon the United Nations Association to change November 16 to the UN Interstellar Day of Tolerance, to reflect the religious make-up of our twenty-first century civilisation.

'Tolerance is about respecting difference where ever it lies, including other galaxies. Please don't exclude us from your important work. May the Force be with you.'

In the 2001 UK Census 390,000 people listed their religion as Jedi Knight making it the fourth biggest belief in the country.

There are also an estimated 70,000 Jedi knights in Australia, 53,000 in New Zealand and 20,000 in Canada.
WTF? They want to insert the word "interstellar" into the already utopian designation of "UN Day of Tolerance". This is political correctness at its most outrageous.
Look, I'll spot them the religion angle, but by what rationale do they come up with "interstellar". They're from THIS planet. Living in your parents' basement doesn't qualify as interstellar no matter how you have it decorated. The Star Wars Universe is not real. There are no Wookies, no Twi'leks, no Bothans, no Jawas...
Well, OK there are Jawas. Sorry 'bout that, Rusty.
Posted by: Gary at 01:25 PM | No Comments | Add Comment
Post contains 231 words, total size 2 kb.
November 10, 2006
It's The End Of The World As We Know It
Jack Palance
has died
. Doogie Howser
is gay
. Add that to the Democrat takeover of Congress and you have the three remaining signs of the Apocalypse.
We are now officially f'ed.
Posted by: Gary at 11:30 PM | Comments (2) | Add Comment
Post contains 51 words, total size 1 kb.
23kb generated in CPU 0.0261, elapsed 0.0963 seconds.
115 queries taking 0.0813 seconds, 240 records returned.
Powered by Minx 1.1.6c-pink.