November 29, 2005
The "Bad Girl" Blog
Or "Adventures In Google Chumming".
It seems like forever ago that - just for shits 'n giggles - I posted this pic, which came from some Hollywood premiere: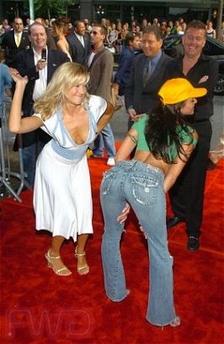 Guess what I named the .jpg file? "Bad Girl". Makes sense, huh?
Well, since then it's THE number one Google Image search hit for "bad girl". Of course, wouldn't you know it brings them to by old site on BlogSnot.
And the most interesting part is that the vast majority of the searches come from Europe and the Middle East. Those dirty dogs!
And thanks to Steve the Llama Butcher for enlightening me to the term "google chumming". Of course, he is the google chum king.
Posted by: Gary at 03:20 PM | Comments (4) | Add Comment
Post contains 122 words, total size 1 kb.
November 25, 2005
"Qigong" Jin's Powerful Light Saber
I'm halfway between impressed and appalled at this one. Here's a guy who is Master of Qigong, an "ancient Chinese art of moving and breathing to increase energy". Specifically, Master Tu Jin-Sheng is best known for his Iron Crotch branch of Qigong.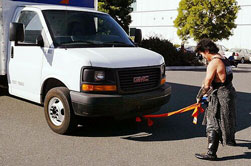 The guy pulled a pick-up truck with his johnson.
A documentary film director and producer from London were on hand to shoot the jaw-dropping feat for a three-part series called Penis Envy, scheduled to air next year on Channel 4 in the United Kingdom. Footage from the truck pull will be used for the series piece on building the perfect penis.

Hes very special. Powerful. Superman, said an awe-struck Shawnee Wang, who studies Qigong with Jin-Sheng at his gym in Cupertino. I just came here to watch my master perform.

Jin-Sheng, the grandmaster of Iron Crotch, a branch of Qigong also known as 99 Qigong, is said to have 60,000 followers worldwide. Its practitioners are known to lift hundreds of pounds with their genitals to increase energy and sexual performance. One of Jin-Shengs most famous students, a 70-year-old man in Taiwan, is said to have lifted more than 660 pounds with his penis. The grandmaster teaches Iron Crotch and Qigong in Fremont and Cupertino.

Jin-Shengs performance drew a hearty applause (and only a few gasps) from the sparse crowd. He wrapped a piece of fabric around his waist to conceal his genitals from the crowd, but in the heat of the second truck pull, when he tied the cloth around his testicles only, it was pushed aside to reveal a ball of flesh that looked ready to burst.

Jin-Sheng wiped the sweat from his brow after the show and said through an interpreter that he felt comfortable and warm.

When asked if he was in any pain, he laughed.
And how does this fellow get himself "warmed up" for such an exercise? He has one of his students give him a swift kick to the nuts.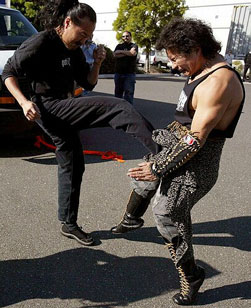 I'm speechless. My five-year old accidently whacks me in the old bait and tackle and I cry like a baby.
Posted by: Gary at 07:41 AM | Comments (2) | Add Comment
Post contains 357 words, total size 3 kb.
November 23, 2005
Fatal Consequences...
...
of not being the Master Of Your Domain
.
Frankly, up until the teeth falling out part I find these maladies to be more akin to what happens if you don't do it. I also find it amusing that the original text is in French.
I mean how can any French guy look at this woman on the TV everyday and control himself?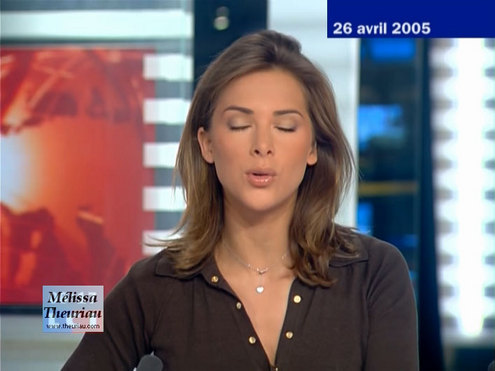 h/t: Ace
Posted by: Gary at 09:30 AM | Comments (4) | Add Comment
Post contains 68 words, total size 1 kb.
November 21, 2005
How Would This Be Possible?
Teenager tries to have sex with a mannequin.
Unless department store dummies are designed to be more anatomically accessible these days, I'm wondering how this kid intended to actually "go all the way" here.
Security guard found Michael Plentyhorse, 18, sprawled with the dummy on the floor with his trousers and pants down.

Police spokesman Loren McManus said: "There was inappropriate activity between him and the mannequin."

"That's the only way I know how to put it."
I think maybe Mr. Plentyhorse (love that name, BTW) has seen
this movie
one too many times.
Posted by: Gary at 03:08 PM | Comments (1) | Add Comment
Post contains 102 words, total size 1 kb.
November 18, 2005
It's Time For Friday "WTF?"
It's bad enough when your kid steals your possessions and sells them, but talk about
adding insult to injury
:
A Canadian teenager is in trouble after selling her mum's camcorder - with a home made blue movie still inside.

The mother did not even know the camera was missing until her boyfriend complained the video was going around town.

The film showed the mother and her boyfriend engaged in an intimate act, reports Canadian Press.
The boyfriend is complaining about it but how much do you want to bet that it was
his
idea to tape themselves doing the nasty in the first place?
Posted by: Gary at 11:21 AM | No Comments | Add Comment
Post contains 112 words, total size 1 kb.
November 16, 2005
My God, What If His Team Had Lost?
Here's a story of a Welsh Rudby fan who commemorated a victory by his team against England by
lopping off his grapes
!
Geoffrey Huish, 31, took an agonising ten minutes to perform the op using a pair of blunt wire cutters, says the Sun.

Then he put his severed parts in a blue plastic bag and staggered to a social club to tell fellow Wales fans what he'd done.
There's
more
but I don't recommend reading it unless you have a strong stomach. Yikes!
Thanks (I think) for the tip to Jonah G. at The Corner
Posted by: Gary at 02:03 PM | No Comments | Add Comment
Post contains 110 words, total size 1 kb.
November 04, 2005
It's Time For Friday WTF?
A German firm called Nutzwerk Ltd has a
policy that makes whining a fireable offense
:
Manager Thomas Kuwatsch said those who get up on the wrong side of the bed should stay at home and work out their grumpiness rather than come into work.

But he warned those taking too much time off for bad moods would face the sack.

"We made the ban on moaning and grumpiness at work official after one female employee refused to subscribe to the company's philosophy of always smiling," he said.

"She used to moan so much that other employees complained about her complaining. Once it was part of the contract however, our employees really started to think positively.
If they instituted that policy over at the DNC, there'd be no one left to fetch Howard Dean his ritalin.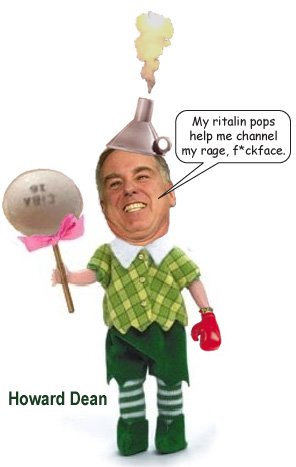 Graphic from: Theodore's World
Posted by: Gary at 01:37 PM | Comments (1) | Add Comment
Post contains 148 words, total size 1 kb.
30kb generated in CPU 0.0483, elapsed 0.099 seconds.
117 queries taking 0.0887 seconds, 250 records returned.
Powered by Minx 1.1.6c-pink.