March 31, 2006
Woman Calls Police On Porn-Addicted Hubby
A frustrated wife in Aachen, Germany is so fed up with
her husband watching non-stop porn
she called the cops to extract him from his barcalounger.
The 44-year-old woman, from Aachen, dialled the emergency police number and told the dispatcher in a weepy voice there was an emergency.

But when officers arrived at the scene they found her pacing the apartment while her husband, 46, sat in front of the TV watching a blue movie.

She told the police: "Nothing will move him, not even if I offer him the real thing, and he has the TV on so loud I'm sure the neighbours can hear it."
Has it not occured to this woman that her poor husband is merely trying "aversion therapy" to break himself of his addiction, a la
"A Clockwork Orange"
?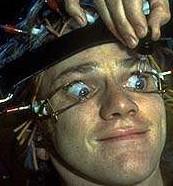 Hey, it could happen.
Posted by: Gary at 02:18 PM | No Comments | Add Comment
Post contains 148 words, total size 1 kb.
March 30, 2006
"BAM!...I Feel Like A Woman"
Oh man, this is something. A woman claims she
accidentally shot her husband
while doing a sexy dance for him to the music of Shania Twain. It seems, at first, Linda West did her little provacative show for her husband of two months with a broom to represent a gun. But the broom thing? It just wasn't good enough for the hubby.
"Mr West was found dead in an armchair by police after his wife made a hysterical 999 call. He had a single shotgun wound to his chest.

Giving evidence in her defence at Winchester Crown Court, Hants, West said they had shared a "lovely evening" at their Southampton home. They had drunk wine and she had run a bath for her husband.

When he came out of the bathroom she decided to put on a show and began dancing to the music of the country singer, which was playing on a stereo. The song contains erotically-charged lyrics.

She said Mr West then disappeared into the bedroom of their flat and reappeared with his BSA500 shotgun and asked her to dance with it.

West re-enacted her moves using the broom handle, telling the jury: "I'm holding the barrels of the gun and I'm dancing holding the gun. I was entertaining my husband."

She said that at the end of the song she put the shotgun on to the floor beside her. With tears streaming down her face she said: "It just went offÂ…it just went bang."

A weapons expert told the court that the safety catch, used to prevent the accidental firing of the gun, was faulty and it could have gone off without anyone touching the trigger. West told the court that she was unaware of the fault.

The prosecution claims the couple had argued after drinking and West had deliberately shot her husband, a marine engineer, in anger. Neighbours had reported hearing shouting coming from their flat."
Okay, so you're a marine engineer. BAM! That don't impress me much.
Or maybe those shouts were actually more along the lines of "Yee-ha, woman! Dance for me!" Plus Mrs. West tested twice the legal drunk-driving limit. Who knows? Would I love to be on that jury. But, there's a lesson to be learned here gentlemen: no matter how horny you are, never give your drunk wife a loaded shotgun. Er...or something like that.
Posted by: Gary at 02:00 PM | No Comments | Add Comment
Post contains 402 words, total size 2 kb.
March 28, 2006
This Is Just Wrong
Some weirdo - in my own lovely "Blue State" of CT, no less - got here with the following search (see "search words"):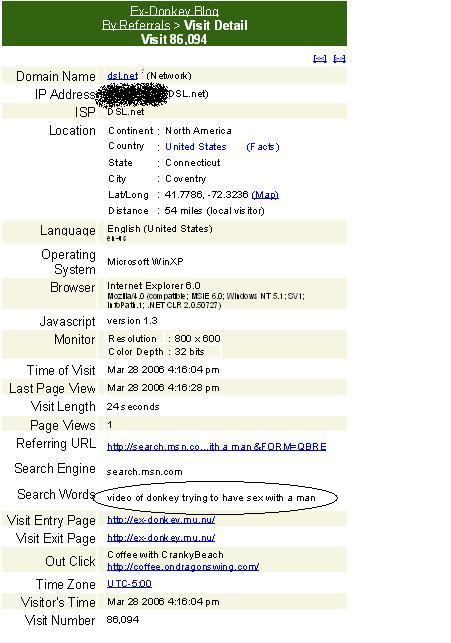 Dude, you are one sick little monkey!!!!!
Posted by: Gary at 07:38 PM | Comments (2) | Add Comment
Post contains 38 words, total size 1 kb.
March 24, 2006
No Clothing, Please. We're British.
A new survey finds that about
30% of Brit make telephone calls in their birthday suit
on a regular basis (at least 30% of those polled who weren't offended by the question):
"Men are less reserved with over 40% admitting to making naked calls compared with 27% of women.

The study for Post Office HomePhone also revealed that many of us don't pay full attention to callers."
Let's see, their naked and not paying attention to the person on the other end of the line. Hmmmm. Talk about self-absorbed.
Posted by: Gary at 01:18 PM | No Comments | Add Comment
Post contains 97 words, total size 1 kb.
March 17, 2006
A Friday "WTF?" Two-fer
Just couldn't choose between these two so here's both:
1) That's Amore!: An elderly Italian couple was pulled over in Rome because the female passenger had a different kind of ride in mind.
The zig-zagging car gave them away. When Italian police pulled over the vehicle, they found a completely naked 70-year-old woman who had been trying to have sex with the driver -- 11 years her junior.

After demanding the joy-riding couple get dressed, the police tested the semi-nude male motorist for drunk driving.

"He was three times over the legal (blood-alcohol) limit," said police commander Angelo D'Anardo in the city of Cologno al Serio, northeast of Milan.

"We assume they must have been drinking at lunch and then things got out of control."
If you've got a completely naked 70-woman in your passenger seat, I'd say things got out of control before you even started the car.
2) Assault With A Not-So-Deadly Weapon: A man hacks off his own penis and throws it at the police?
Before cops threw the book at him, Jakub Fik threw something unusual at them -- his penis.

Fik, 33, cut off his own penis during a Northwest Side rampage Wednesday morning. When confronted by police, Fik hurled several knives and his severed organ at the officers, police said. Officers stunned him with a Taser and took him into custody.

"We took him out without any serious injury, with the exception of his own," said Chicago Police Sgt. Edward Dolan of the 16th District.

Doctors at Northwestern Memorial Hospital reattached Fik's penis Wednesday, sources said. He was listed in good condition Thursday, according to hospital spokesman Andrew Buchanan, who declined to comment further.
I don't know what amazes me more - the fact that some guy would be crazy enough to do this to himself or that every time we hear about a "dis-
member
-ment" in the news it seems like they always manage to reattach it.
Posted by: Gary at 11:26 AM | Comments (1) | Add Comment
Post contains 327 words, total size 2 kb.
March 10, 2006
"Chopper...Sic Balls"
Today's Friday WTF?:
Dog Nearly Bites Off Man's Penis
.
A German man playing with his brother's Jack Russell was hospitalised after the dog sunk its teeth into his penis.

Daniel Dietmaier, from Dueren, said the dog nearly bit it off and after his brother's girlfriend told it to "attack" as a joke.

He is demanding substantial damages, saying the woman did not even helped him as he lay on the floor in agony after beating off the dog - because she had collapsed on the floor laughing.
OK, I'd like to know:
1) exactly what was the nature of the "playing" going on with the dog at the time?,
2) why the guy's dork was available to be bitten? and
3) what was his girlfriend doing prior to her little "joke"?
On second thought, nah. I don't want to know.
Posted by: Gary at 09:32 AM | Comments (1) | Add Comment
Post contains 142 words, total size 1 kb.
26kb generated in CPU 0.0183, elapsed 0.0753 seconds.
115 queries taking 0.066 seconds, 240 records returned.
Powered by Minx 1.1.6c-pink.