June 29, 2006
Spit Or Swallow?
OK, you get your "Friday WTF?" story early (mostly because I'm going to be unconnected to the 'net tomorrow).
Here's a doozy. A guy in Poland gets pulled over for DUI, reeking of vodka. What is his defense?
A Polish former MP has escaped a drink driving ban after telling cops he had only been using vodka as mouth wash.

Grzegorz Gruszka was arrested after being pulled over by police in a routine check and failing a breath test.

He was acquitted after he told prosecutors he had not actually swallowed any alcohol, and had only rinsed his mouth with "jogobelka" - a popular local mixture of vodka and mustard.
Call me cynical but I think the fact that he was an ex-member of Parliament might have had a
little
something to do with this. But still, is this a Polish politician's version of "I didn't inhale"?
Posted by: Gary at 10:15 AM | Comments (2) | Add Comment
Post contains 151 words, total size 1 kb.
June 27, 2006
Did A Dingo Take Your Baby?
You've got to love the unbelievable variety of unique animals that roam the Australian countryside.
I mean, just look at the choppers on this puppy: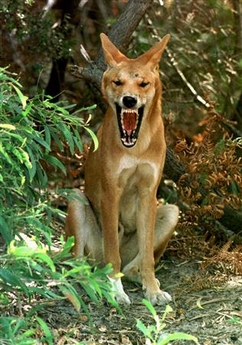 Posted by: Gary at 12:00 PM | Comments (3) | Add Comment
Post contains 37 words, total size 1 kb.
June 09, 2006
The Dead Chihuahua Sketch
Remember the Monty Python "Dead Parrot" Sketch? The one where John Cleese pounds the stiff deceased bird on the pet shop counter? "Hello Polly!!!!! Wakey, Wakey!!!! I've got a lovely fresh cuttle fish for you!"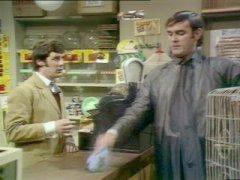 Well here's story almost as funny but it's true. A woman in Missouri attacked a dog breeder with a stiff deceased dog!
"A woman angry that her new puppy had died pushed her way into a dog breeder's home and repeatedly hit her on the head with the dead Chihuahua, authorities said.

The 33-year-old woman told police she had taken the puppy to a veterinarian, who said it was only 4 weeks old and needed to be returned to its mother. But before she could return the puppy, it died.

Early Wednesday, the woman went to the breeder's home, pushed her way inside and began fighting with the breeder as she tried to make her way to the basement to get another puppy, police said.

The breeder wrestled the woman out of her house to the front porch, where the woman then hit the breeder over the head numerous times with the dead puppy, the St. Louis Post-Dispatch reported, citing police.

As the woman drove away, she waved the dead puppy out of the car's sunroof and yelled threats at the breeder, police said. She later called the breeder and threatened her and her family, according to court records."
Well this one definitely qualifies for my weekly Friday WTF? award.
Posted by: Gary at 02:02 PM | Comments (2) | Add Comment
Post contains 251 words, total size 2 kb.
June 07, 2006
June 02, 2006
Cemetary Vandal Gives Authorities The Finger
Literally. He was
forced to leave a tell-tale sign
behind that linked him to the crime:
Police found the finger end stuck between two toppled gravestones in the cemetery in Fleming, New York state.

Officers, who say a total of 53 headstones were knocked over, later arrested a man missing a finger.

He has been charged with criminal mischief, criminal trespass and cemetery desecration, reports 13WHAM-TV."
Hey, once you get past the first fifty or so you're bound to get careless.
Posted by: Gary at 02:23 PM | No Comments | Add Comment
Post contains 91 words, total size 1 kb.
22kb generated in CPU 0.0148, elapsed 0.0632 seconds.
115 queries taking 0.0541 seconds, 241 records returned.
Powered by Minx 1.1.6c-pink.