July 26, 2006
Innocent Man Killed Riding Roller Coaster In Bush's Garden!
I see a
cover-up here
:
A 52-year-old man who complained that he felt sick after riding a roller coaster at Busch Gardens died about two hours later in a hospital, park officials said Tuesday.
When the President was asked about the story, he is reported to have said, "I don't anything about that."
BUSH LIED!!! BUSH LIED!!!
Posted by: Gary at 04:05 PM | Comments (1) | Add Comment
Post contains 73 words, total size 1 kb.
July 21, 2006
Now That's Some Nice Wool - It's Friday WTF?
Polish grannies are putting their crocheting skills to a new use -
making G strings!
No longer able to sell their hand-crafted doilies and table clothes, women in the tiny Polish mountain village of Koniakow turned their crocheting skills to making sexy lingerie.

And the business has proved such a success that the crochetiers have now launched an online shop for people around the world to buy the knitted underwear.

Tadeusz Rucki, who funds the granny g-string firm, said: "People aren't only mad about g-strings in traditional white crochet, but also in red and black."

But the head of the local Society for Folk Art, Helena Kamieniarz, is not happy with the new business, saying: "What is being done to our old traditions is a disgrace. The art of crochet is not intended for making such garments."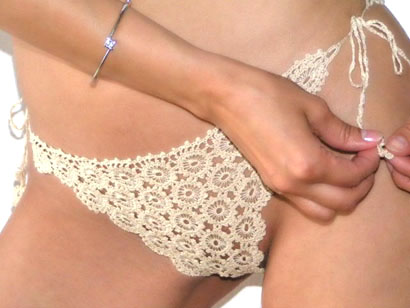 What would my dear old Nanna say?
Posted by: Gary at 12:30 PM | Comments (1) | Add Comment
Post contains 161 words, total size 1 kb.
July 20, 2006
When A Hard Good Man Is Good Hard To Find
There's always mother nature to answer the call of the wild: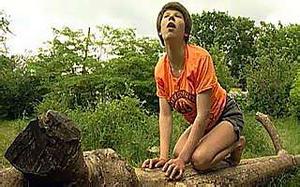 Now that's what I call sporting wood.
Posted by: Gary at 04:15 PM | Comments (1) | Add Comment
Post contains 38 words, total size 1 kb.
July 19, 2006
Interesting Photo Of The Day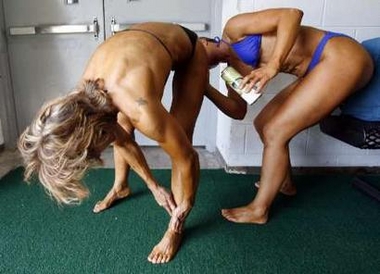 The caption to this Reuters pic reads:
"Athlete Kathy Brennan (R) of Washington, D.C., helps to apply tanner on Forrest of Ferndale, Michigan, before the Physique competition during Gay Games VII in Evanston, Illinois, July 18, 2006."
Umm. I think somebody needs to explain to Ms. Brennan that applying the tanner internally amounts to overkill.
h/t: Neale News
Posted by: Gary at 09:40 AM | Comments (2) | Add Comment
Post contains 68 words, total size 1 kb.
July 17, 2006
There's Only Two Things I Hate In This World...
"...People who are intolerant of other people's cultures. And the Dutch."
- Nigel Powers, 2002
Seriously, though. Apparently, there is a political party in the Netherlands dedicated to the passage of a law that lowers the age of sexual consent from 16 to 12.
12!!!!! Ferchrissakes!!!
A judge recently overturned a ban on this "political party" which is headed up by some pervert who molested an 11-year old boy. It's called the PNVD party (an acronym for "Brotherly Love, Freedom and Diversity" - yech). This is really nothing more than an out-and-about version of the Super Adventure Club from South Park.
The judge's rationale was that it was up to the voters to decide the appeal of such a group. Fine, I agree in principle. But hear me now and believe me later; if this group of sickos gets more than 2% of the vote in the next Dutch election, I am taking old Nigel's declaration to heart.
Posted by: Gary at 02:00 PM | No Comments | Add Comment
Post contains 176 words, total size 1 kb.
July 05, 2006
24kb generated in CPU 0.0239, elapsed 0.1122 seconds.
117 queries taking 0.0995 seconds, 242 records returned.
Powered by Minx 1.1.6c-pink.