February 27, 2006
Local San Fran Artist Offers Handouts To Homeless, Then Renegs
An artist named Joe Canada (if that
is
his real name) tried to
organize a giveaway to homeless people in San Francisco
, offering $10 a person. Canada, however, experienced second thoughts when he saw the crowd that decided to take him up on the offer.
More than 500 people -- some who had arrived before noon -- showed up for the 4 p.m. giveaway but walked away empty-handed. Joe Canada, an artist from Novato, spoke to the crowd for about an hour but drove away before he or any of his 20 volunteers could hand out any bills. The size of the crowd might have intimidated him, police said.

"There were too many people," Sgt. Anthony Manfreda said. "He just got spooked."

The crowd saw Canada pulling away in his truck on Polk Street and began walking quickly toward the truck. The volunteers headed the people off and convinced them to return to the area near the entrance to the Civic Center underground parking lot.

The crowd began cursing and yelling at Canada and his volunteers.

"This was just a great big joke on us," Steve Hunt said. "He better not show his face here again."
He better not show his face, that is, unless he has Mr. Hunt's 10 bucks.
Local liquor store owners were also excited at the prospect of racking up some $5,000 in sales for the evening only to be disappointed by the artist's sudden departure.
Posted by: Gary at 02:32 PM | Comments (2) | Add Comment
Post contains 259 words, total size 2 kb.
February 24, 2006
"You Make A F***ing Left Turn Up Ahead!"
Imagine Ozzy Osbourne giving you directions. Now you can experience his drunken rants in the privacy of your own car. Apparently there is a
company that sells downloadable impressions of Ozzy
and other celebrities for use on your GPS navigation system.
According to The Sun he tells drivers: "In 400 metres you have reached your f***ing destination."

If a car loses its signal he shouts: "I've lost the f***ing satellite!"

Chris Hilton, boss of manufacturers Voice Skins, said: "Ozzy's voice comes in two versions - with swearwords or bleeps. He is the top choice by far."

Sharon is the next-best seller. She gives instructions like: "Turn around, a***hole."

Other voices available include Clint Eastwood, The Queen and Tony Blair who says: "At the end of the road, congestion charge. Bloody Ken Livingstone."
I can think of some others that would be pretty funny. How cool would it be if they used Mike Myer's voice doing Fat Bastard?
Posted by: Gary at 09:00 AM | Comments (3) | Add Comment
Post contains 171 words, total size 1 kb.
February 21, 2006
Gunfight at the T.P. Corral
OK, normally I reserve way-out stories like this for Fridays, but this is unbelievable. A guy actually
beat his roommate to death
because they ran out of toilet paper.
[Paul] Crow told investigators that the men were fighting about the toilet paper over the weekend when Matthews pulled out a rifle. Crow said he then began beating Matthews with the sledgehammer and claw hammer, according to an affidavit.

Matthews was beaten so badly he had to be identified through his fingerprints, detectives said.
So who's crazier? The guy who commits homicide with a claw hammer or the one who
brandishes the rifle in the first place
? It's only toilet paper, guys! You could always just use a copy of the
New York Times
.
Posted by: Gary at 01:32 PM | No Comments | Add Comment
Post contains 131 words, total size 1 kb.
February 20, 2006
February 17, 2006
This Is The New Bond Girl?!?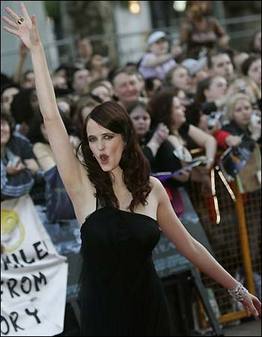 You've got to be kidding me. French actress Eva Green (who?) has been tapped to be in the new James Bond film, "Casino Royale".
"Eva is one of France's most accomplished young actresses, now receiving international acclaim," producers Michael G. Wilson and Barbara Broccoli said Thursday in a statement. "She brings to the complex role of Vesper an exciting combination of enigmatic and seductive beauty."
Ahem. Guys, the audiences for these films don't want to pay good money to see some "accomplished young actress" that
looks like the angel of death
! They want hot babes that look good in tight-fitting costumes and can credibly look like they know how to shoot a gun.
Does the script for "Casino Royale" call for a Goth chick or something? I had to reduce the picture size because she's so ghastly. What the hell has this franchise come to? First a blonde Bond, now this?
The movie takes place on the Riviera, right? Well, if she's got to be French, I'd like to offer a much more palatable alternative: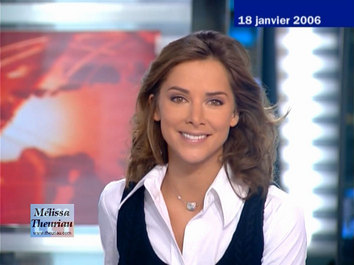 Hey, you want a Bond girl? Tune in tomorrow for the "80's Crush Of The Week" and I'll show you a real Bond girl.
UPDATE - 4:00pm:
In the meantime, they've also announced the new actress to play Lara Croft: Tomb Raider: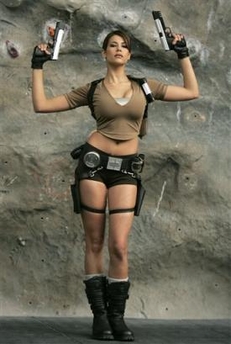 Oh yeah, THAT'S more like it. Guess which ticket I'm gonna buy? Face it, Lara Croft is the new James Bond.
Posted by: Gary at 03:15 PM | Comments (1) | Add Comment
Post contains 248 words, total size 2 kb.
Proof That Pot Kills Brain Cells
Here's a pretty good "Friday WTF?". A guy in Germany who bought some lousy weed
took his purchase to the police
to complain that he'd been the victim of fraud.
Hans-Juergen Bendt, 52, from Darmstadt, lodged a complaint about his dealer with police after he sold him seven ounces of "completely un-enjoyable" hash.

Bendt complained the dealer refused to refund him the £270 he had paid for the drugs.
It was clear that the guy was really "bummed" over the whole matter because he told the officer that the dope in question was of "absolutely mediocre quality". Absolutely, dude.
Naturally, the police ignored the complaint and arrested Bendt for illegal purchase and possession. Maybe the guy thought he was in Holland. Then again, maybe what he scored turned out to be a lot more potent than he thought.
Say it with me folks: DUMB...ASS!
Posted by: Gary at 02:00 PM | No Comments | Add Comment
Post contains 154 words, total size 1 kb.
February 13, 2006
A Hunting Accident?
That's
the "official" story
of this weekend's incident involving the Vice-President. But we're now getting information throughout the blogosphere as to what
really
happened.
According to an unnamed eyewitness, Dick Cheney had his shotgun trained on a covey of quail when his hunting partner, Harry Whittington, decided to have a little fun. Faking an exaggerated sneeze, Whittington scared off the game depriving Cheney of his kill. Now if Dick Cheney's wrath had been such that he wanted Whittington dead, he would have simply strangled him with his penis.
No, the Vice-President merely intended to send Whittington a message: You don't f**k with Dick Cheney.
UPDATE: 12:00pm
Where credit is due...
Bless my soul, Al Franken lapsed back into "funny" mode today:
Now, I imagine that Cheney and the President have hunted together. What would have happened if Cheney had shot the President? I think if he shot Bush this way, Bush isn't 78 and he's in pretty good shape, and he's kinda macho. I think he would've gotten up and shot Cheney back. And I think they would've started blasting each other like in a Tarrantino movie.
Posted by: Gary at 08:41 AM | Comments (1) | Add Comment
Post contains 192 words, total size 1 kb.
February 10, 2006
You Can't Overplan
Especially when you're going to
try and rob a bank
.
A bankobber was left empty-handed when he turned up ten minutes late and found the branch had already closed for the day.

Staff at the Podravska Bank in Zagreb, Croatia, told police they were just getting ready to go home when they heard the doors rattling and saw a masked man holding a gun trying to get in.

Police spokesman Davor Tor said: "Most banks here open until 7pm but this robber obviously picked the wrong branch.

"Staff said even though he was wearing a mask they could tell from his movements that he was very confused to find the bank wasn't open."

Police are looking for the robber and say if caught he will be charged with attempted armed robbery.
How much you wanna bet this guy ends up getting caught because of his own stupidity?
Posted by: Gary at 03:31 PM | No Comments | Add Comment
Post contains 151 words, total size 1 kb.
February 07, 2006
Don't Play Around With That Funky Cold Medina
An aphrodisiac soda? That's what
this stuff
is marketed as.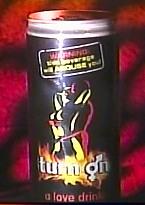 It's called "Turn On" and it promises to make the person who drinks it...um, good to go.
The soda was banned in France and Denmark, but makers insist it is safe and works as an aphrodisiac.

People who have tested the soda said it tastes like cherry soda.

"We watched a film and then afterwards I felt like my senses were more like turned on, like I could feel more, I felt more on my skin," a tester said.

Doctors have already warned that the drink is not for everyone. Children, pregnant women and people with high blood pressure and diabetes should avoid the drink, according to the report.

A warning label on the can claims, "This beverage will arouse you."
I'm a little skeptical here. It's probably more of a psychological effect than anything else. Wonder what the tester would have said if what they gave them was real cherry soda? Still, if you're thinking of trying it you might want to give it to the dog first. And if he does the "Wild Thing" on your leg...well, you know the rest.
Posted by: Gary at 11:00 AM | No Comments | Add Comment
Post contains 207 words, total size 1 kb.
February 03, 2006
Holy Crap! This Is A Special Friday WTF? Moment!
Look at the size of this freaking rabbit!!!!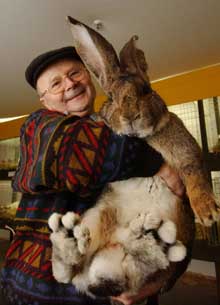 And this is REAL, too! Raised by a German breeder named Hans Wagner (he's the guy in the photo), the bunny - named German Giant - is more than three feet tall when standing on his hind feet.
How did German Giant get so big?

"I don't feed him an unusual diet," said Wagner. "He goes through more than his brothers and sisters, but he eats the same food mix. His favorite food is actually lettuce. He can never get enough of it."
Looks more like he actually ate his brothers and sisters! I mean, its head is almost as big as Herr Wagner's! Sheesh!
Posted by: Gary at 10:10 AM | Comments (3) | Add Comment
Post contains 129 words, total size 1 kb.
37kb generated in CPU 0.0238, elapsed 0.0753 seconds.
118 queries taking 0.063 seconds, 256 records returned.
Powered by Minx 1.1.6c-pink.