September 29, 2006
Woman Spoons Her Way To Health...With Sand
Here's a Friday WTF? for the hall of fame:
Woman Eats Sand To Stay Healthy
.
An Indian grandmother has revealed she eats a kilo of sand a day to stay fit and healthy.

Ram Rati, 80, considers sand an essential part of her daily diet and eats a kilo of it before breakfast, lunch and afternoon tea

Ram who lives in Chinhar in Lucknow told Asian News International: "When young, I tried it for fun once. Since then, I am used to it. My brothers and relatives pestered me to quit it but it was all in vain. I eat on an average around one or one-and-a-half kilos of sand per day."

Her granddaughter Shikha said: "The doctor said if she has no health problems, let her eat. We think it suits her health."

Talk about your dietary fiber. I'd say this woman could probably pass just about anything through her system at this point.
Posted by: Gary at 02:03 PM | No Comments | Add Comment
Post contains 168 words, total size 1 kb.
September 15, 2006
I Told The Witchdoctor I Was In Love With You - It's "Friday WTF?"
Apparently "Ooh Eee, Ooh Ah-Ah, Tee-Tang Walla-Walla Bing Bang" must translate roughly to:
Have sex with a hedgehog:
A Serbian man needed emergency surgery after he had sex with a hedgehog on a witchdoctor's advice.

Zoran Nikolovic, 35, from Belgrade, says the witchdoctor told him it would cure his premature ejaculation.

But he ended up in an operating theatre after the hedgehog's needles left his penis severely lacerated.

A hospital spokesman said: "The animal was apparently unhurt and the patient came off much worse from the encounter. We have managed to repair the damage to his penis."

I'm not going to touch that one with a ten foot...er...pole.
Posted by: Gary at 02:00 PM | Comments (1) | Add Comment
Post contains 135 words, total size 1 kb.
September 13, 2006
September 06, 2006
Oh, For The Love Of God!
You see this?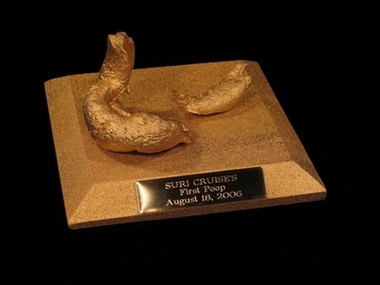 Yes, it's a sculpture of the first turd squeezed out by the spawn of TomKat!
Here's the caption to this A/P gem:
This photo released by the Capla Kesting Gallery in August 2006 shows a sculpture purportedly cast from 19-week old Suri Cruise's first bowel movement. Tom Cruise and Katie Holmes finally put Hollywood at ease by publishing the first photo of their daughter Suri, four months after her birth, in Vanity Fair magazine's October issue.
I don't know about you but this doesn't put
me
at ease. Not in the least! It freaking creeps me out!
Posted by: Gary at 02:21 PM | Comments (5) | Add Comment
Post contains 110 words, total size 1 kb.
21kb generated in CPU 0.0152, elapsed 0.062 seconds.
115 queries taking 0.0518 seconds, 239 records returned.
Powered by Minx 1.1.6c-pink.