November 21, 2006
How's This For A Conversation Piece?
Imagine this in the center of your Thanksgiving table: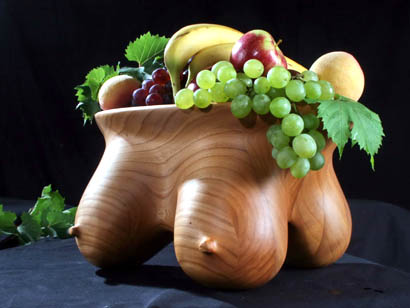 This is from a Dutch carpenter whose work is on display in an art gallery in Germany.
Cabinet maker Mario Philippona designed a range of stylish wooden cupboards, wardrobes and tables using the female anatomy as his inspiration.

His newest piece is a fruit bowl decorated with realistically shaped life-size wooden breasts called 'TittyFruity'.

Other pieces include a wine-glass cupboard in the shape of a pair of large breasts, a table supported by legs moulded from a female model and a bedside drawer which opens by pressing a button in the piece's 'vagina'.

Philippona said: "The shape of a woman, her organic architecture, combined with my passion for wood inspired me to sculpt these sexy designs."
I can hear dear old Uncle Gus as he passes the cranberry sauce, "Just look at them sweet potaters! Haw, Haw, Haw!"
At least it gives us guys a little reminder of what to be thankful for. :-)
Posted by: Gary at 11:00 AM | Comments (4) | Add Comment
Post contains 179 words, total size 1 kb.
Posted by: Eric at November 21, 2006 12:41 PM (NlzwQ)
Posted by: Georgia Girl (gfsil) at November 21, 2006 07:25 PM (t/eS0)
Posted by: annonymous at November 25, 2006 03:40 PM (nq7DB)
Posted by: Gary at November 26, 2006 09:55 AM (QFysq)
Comments are disabled. Post is locked.
17kb generated in CPU 0.011, elapsed 0.0572 seconds.
114 queries taking 0.0511 seconds, 232 records returned.
Powered by Minx 1.1.6c-pink.