December 28, 2006
The Man With The Golden Arm
Yee-Gads! The SanFran Giants have succumbed to the will of the wily "super agent" Scott Boras and agreed to pay pitcher Barry Zito $126,000,000 over SEVEN years!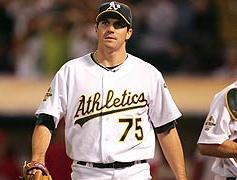 Now, as a Mets fan, I would certainly have considered Zito a nice signing in New York but laying out a contract for a pitcher that goes beyond five years is insanity - a guaranteed $18 Million a year from now through 2013? No thanks. Boras strikes again. Wow. And he doesn't even have to move (he's currently on Oakland's roster).
Sure, maybe he'll pitch at "ace" levels until he's 35. Maybe he'll avoid throwing out his arm. And maybe if his production starts to fall over the years, there'll actually be a team out there willing to trade for him and take on his gi-normous salary.
But if I were a betting man...nah.
Posted by: Gary at 02:06 PM | No Comments | Add Comment
Post contains 153 words, total size 1 kb.
Comments are disabled. Post is locked.
13kb generated in CPU 0.02, elapsed 0.0788 seconds.
112 queries taking 0.0657 seconds, 225 records returned.
Powered by Minx 1.1.6c-pink.