November 24, 2005
Cowboys Lose!!!
Chokin' it up in overtime.
Giants lead the NFC East.
My only question is why the hell didn't Ron Dayne bust a run like that when he played for the Giants?
On a personal note, I brought home more turkey leftovers tonight than I have from any other Thanksgiving - ever! Whoo-Hoo!
Now the Mrs. wants me to sit through "Cold Mountain". And my 9-year old gets to watch Star Wars: A New Hope on DVD. Damn.
Posted by: Gary at 08:02 PM | Comments (12) | Add Comment
Post contains 81 words, total size 1 kb.
November 20, 2005
Giants v. Eagles
UPDATE:
GIANTS WIN BABY!! 27-17. I'll give Philly credit, they haven't given up on their season, even if everyone else has. I had to listen to most of this on the radio while I was getting rid of as many leaves as possible before the snow comes.
Phew. That's a relief. Now, tied with the 'Boys for first. December 4th is looming large on the schedule!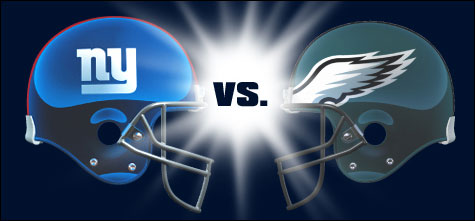 HUGE freaking game.
Now the Eagles are on the ropes. They lose their best receiver in a PR disaster (never should have signed the a-hole in the first place). Their star QB is down and out - maybe for the whole season. The former division title holder is now in a 4-5 hole with pretty much no one giving them a prayer.
But nothing is more dangerous than a wouned animal. And no team can be taken lightly - as the Giants painfully learned last week against the Vikes. Throw into the mix that one team or the other traditionally sweeps the series every season and you've got...pressure!
Hopefully, NY will bounce back from last week and destroy Philly. Kick them when their down. And if they stir a little, kick 'em again. Harder. It's no secret that I hate the Eagles with the white-hot intensity of a thousand burning suns. I want not just a W. I want a slaughter.
And if I can't get a slaughter...I'll take a W anyway.
Posted by: Gary at 08:36 AM | No Comments | Add Comment
Post contains 244 words, total size 2 kb.
November 13, 2005
Giants v. Vikings
UPDATE: Giants soil themselves, lose 21-24 to Vikes.
Man, that was brutal. Of all the possible problems I listed below the two that I neglected to mention - dumb-ass penalties and turnovers - are what really killed them. 5 turnovers and 75 yards in penalties. Crap. What a mess. I thought for sure that the three big defensive plays they made at the end of the half would keep them fired up enough to play smart. Boy, was I wrong. I'm not going to kill the defense for allowing the field goal in the last minute. They carried this team. Other than the STUPID PENALTIES they should be proud of their performance today.
Coach Coughlin better chew on some asses this week. Philly may be having problems and T.O. may be gone. But this will be their toughest game so far this season. Good God. They better get it in gear.
------------------------------------------------------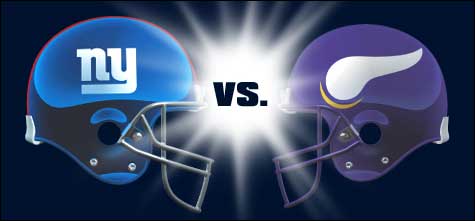 This is one of those games that most people see as a game on their betting sheet that can't lose. With NY only giving three points, a home win for the Giants seems assured.
The Giants are undefeated at home this season and the Vikings are 0-4 on the road. In every stat, NY is the dominant team. Well, guess what. The Vikings are not dead and buried here. If the Giants take this game too lightly, if they are too focused on next week's home game against division rival Philadelphia, if they don't execute properly or if they just don't have their heads in the game then Minnesota could put a world of hurt on NY's playoff prospects.
I'll have to tape this one and watch it later. Playoff teams win the games that they are supposed to win. Every week is another test for the Giants and whether of not they realize it, this week is an important one.
Posted by: Gary at 09:48 AM | Comments (1) | Add Comment
Post contains 319 words, total size 2 kb.
November 06, 2005
Giants v. Niners
UPDATE: Giants WIN, Baby!!
24 - 6
. Not the prettiest game you ever saw. But that reception and TD by Jeremy Shockey was sweet!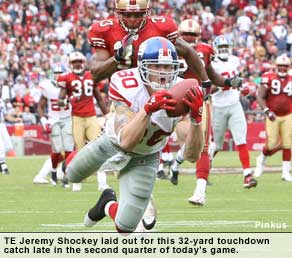 Now the focus is on tonight's game with the Eagles v. the Skins. Whatever the result will be a big deal for them, but it could go either way for me as they're both 4-3.
-------------------------------------------------------------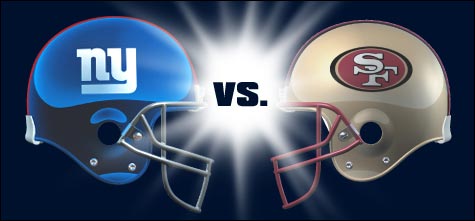 Thus far, the Forty-Niners have racked up only two wins for the season - both of these were at home and the most recent one was last week against Tampa Bay.
Thus far, the Giants have yet to win on the road this season (New Orleans doesn't count as it was really at Giants Stadium). And Eli Manning has yet to win on the road at all.
This week is a big test. The next two weeks, the Giants need to rack up two more in the win column (at San Fran and at home v. Minnesota) because after that their schedule is brutal and ladden with critical division games.
So it's time for the team to stay focused and beat a team that is certainly beatable. They should take advantage of their weak secondary and prepare for their strong pass rush. A solid performance by the offensive line is critical here, not only in protecting Manning but also in creating lanes for the running backs. The Giants offense will need to keep their plays balanced if they are going to be able to capitalize on their passing game.
I give San Fran credit for beating the Bucs last week in their house and the Giants must not take this game lightly.
Posted by: Gary at 12:00 PM | Comments (2) | Add Comment
Post contains 278 words, total size 2 kb.
30kb generated in CPU 0.0184, elapsed 0.071 seconds.
115 queries taking 0.0593 seconds, 245 records returned.
Powered by Minx 1.1.6c-pink.