October 30, 2005
Giants v. Redskins
UPDATE: GIANTS WIN!!!! Racking up 36 points against a tough Foreskins defense. And Washington? All they got was a rock. Happy Halloween, guys!

---------------------------------
This week, an emotional match-up:
The Giants buried their late owner, Wellington Mara earlier this week. The players genuinely loved the old man. And John Mara's eulogy for his father made even the toughest and stoic men in the congregation weep like five year old girls. Unlike certain megalomaniacal owners in the league - ahem, Jerry Jones - Mara was humble, yet inspirational. He loved the game of football almost as much as his family and his church. And he had the kind of passion for his team that I don't think exists in the NFL ownership anymore.
The Redskins are playing well; indeed much better than anyone ever expected. But not only are they due for a let-down, their opponent this week is playing for more than a better division rank. They're playing for Well Mara.
Dismiss this all as sentimental hogwash if you want, but in today's league with so much parity between opponents this kind of intensity almost always makes a difference.
No go on out boys, and win one for the Duke!
Posted by: Gary at 09:02 AM | No Comments | Add Comment
Post contains 206 words, total size 2 kb.
October 25, 2005
Wellington T. Mara (1916 - 2005)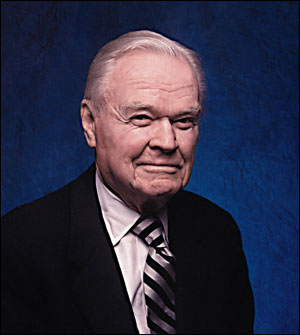 A football "Giant" passed away today at his home in Rye, NY. Wellington "Duke" Mara, co-owner of the New York Football Giants, now passes into legend.
You'd be hard pressed to find anyone with a harsh word for this guy. Mara was a pioneer in professional football and the last of the "founding fathers" of the NFL. He was 89.
Posted by: Gary at 04:57 PM | Comments (1) | Add Comment
Post contains 72 words, total size 1 kb.
October 23, 2005
Giants v. Broncos
UPDATE: 7:40pm
Aw Crap!! Giants win 24-23. So why am I pissed? Because I had dinner late tonight and I forgot to stick a tape in for the fourth quarter of the game. And I missed Big Blue come back from a 23-10 deficit and score two touchdowns - the last one with only :05 remaining!!
Dallas goes from First to Last by choking in the 4th quarter against Seattle - now their record is 4-3. Bet they wish they had the bye! And there's a three way tie for first between the Giants, Redskins and Eagles: each at 4-2.
That'll change one way or another next week when New York hosts the Foreskins who are flying high off the 52-17 ass-whuppin' they put on San Fran today.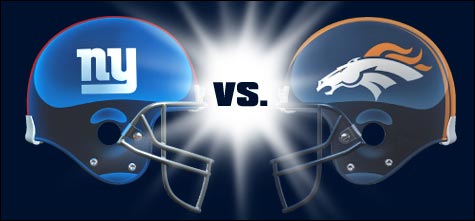 Okay, I am NOT looking forward to this game. When your defense is ranked 32 (out of, oh, 32) in defense on third down conversions and you're opponent has such a strong running game, you know you're in trouble.
I have no doubt that the Giants can score in this game, especially being at home. My concern is that the Broncos will score a LOT more and control the ball as well. Unless the Giants "D" can turn it up a notch from they way they've been playing lately, I don't give them much of a chance in this match-up.
I'm preparing for the worst. :-(
Posted by: Gary at 03:05 PM | No Comments | Add Comment
Post contains 240 words, total size 1 kb.
October 16, 2005
Giants V. Cowboys
UPDATE: Ugh. I listened to this god-awful game on the radio and it was excrutiating. Both offenses were horrible, but Dallas' "D" was better. Frankly, it never should have even gotten to overtime.
The Giants' secondary once again showed how woefully inept they are. And for crying out loud, pull CB Will Allen. He SUCKS!! Freaking loser from Syracuse. What the hell was the front office thinking when they drafted this moron. He makes Amani Toomer look like the President of MENSA. Dill-wad!!
Should've know better than to draft someone from Syracuse in the first place.
Well, now the NFC East is all tied up at 3-2, except for Dallas which is 4-2 by virtue of having not had their bye week and winning today.
Cripes. What a pathetic display.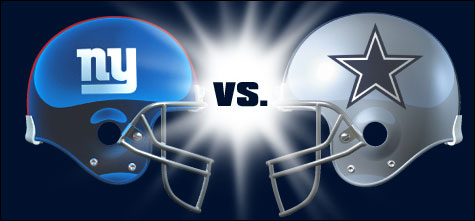 I won't be able to watch this one live, which is a shame because I consider this one of THE games of Week Six. The result could go a long way in determining who will give the Eagles their biggest competition for the Division Title.
Posted by: Gary at 10:10 AM | Comments (1) | Add Comment
Post contains 181 words, total size 1 kb.
October 11, 2005
Excellent!!!
World Series 2005 with NO Red Sox and NO Yankees!!!!!
I have to tell you, at first I felt good for long-suffering Red Sox fans when their team finally won the World Series after 86 years. But over the last year, they have become impossible to live with. Many acquired the cockiness that they so disdain in other fan bases. And the Yankees fans have been...well, Yankees fans. They never change. They're always obnoxious.
Now they can all shut their cake-holes until April. Oh, and that nail-biter pennant race in the AL East that grabbed everyone's attention? It means absolutely nothing now - zip, zero, zilch, nada, buh-bye. Have a nice winter.
Posted by: Gary at 07:08 AM | No Comments | Add Comment
Post contains 114 words, total size 1 kb.
October 09, 2005
A Great Week For The Giants
They didn't lose! Well, they
did
have the Bye this week.
But the division results were exactly what a Giants fan would have hoped for. The Dallas Cowboys humiliated the Philadelphia Eagles. Well, someone had to win. But better that it was the 'Boys so now both teams are 3-2. And the Foreskins - they lost to Denver, making them 3-1.
So that puts New York in 1st with a comparable 3-1, except that the Giants have outscored Washington by 74 points.
So, not having even played a division game, the Giants are in a position to hold it or blow it. Next week: Big Blue goes to Big D.
Posted by: Gary at 07:56 PM | No Comments | Add Comment
Post contains 122 words, total size 1 kb.
October 02, 2005
Giants V. Rams
UPDATE: 4:45pm
GIANTS WIN, BABY!!!!!!
Final score: Giants: 44 Lambs: 24
Eli was 19 for 35 with 296 yards passing and 4 touchdowns. An excellent game. The Giants are (right now) the highest scoring team in the NFL. Sweeeeeeeeeeeeeeeeet!!!
The lambs played hard but when you give up 5 turnovers in the NFL you can put your money down that you're going to lose.
I'm proud of these guys. Next week: the Bye. Let's hope Coughlin is better after the week off than Fassell was.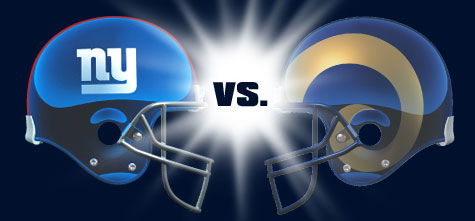 Statistically speaking, both teams are pretty evenly matched. However, the Rams are the stronger and more seasoned team here. The big question is whether or not the Giants defense is able to bounce back from their horrible performance of last week. If they do, New York can win this. If not, it's going to be a long season.
Unfortunately, I won't be able to watch most of this game. And most of the country won't be watching because there is much more excitement in the AL Wildcard race today.
So, here's hoping Coach Coughlin was able to get his players heads in gear this week. In any event, expect both teams to air the ball out quite a bit.
Posted by: Gary at 11:27 AM | No Comments | Add Comment
Post contains 210 words, total size 1 kb.
25kb generated in CPU 0.0152, elapsed 0.0655 seconds.
114 queries taking 0.0565 seconds, 238 records returned.
Powered by Minx 1.1.6c-pink.