September 27, 2006
September 18, 2006
CHAMPS!!!!!
The last time the Mets won their division I was still in college.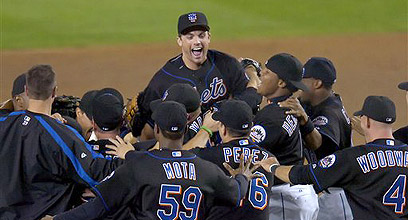 Damn! I feel old.
Congratulations, guys! On to October!!!!!
Posted by: Gary at 10:49 PM | Comments (2) | Add Comment
Post contains 24 words, total size 1 kb.
September 13, 2006
An Historic Day In MLB
With last night's
win over the Florida Marlins
, the Mets have officially ended the era of the Atlanta Braves' dominance of the National League East Division.
The Braves are now OFFICIALLY eliminated from the pennant race.
Excuse me a moment...ahem...BWAHAHAHAHAHAHAHAHAHAHAHAHAHA!...OK, back to this post.
Matthew Cerrone of MetsBlog.com posts an open letter to Braves Manager Bobby Cox:
"I have spent most every minute of the last 12 years swearing and screaming your name, taunting your relief pitchers, mocking your batters, and praying for your bus to stall on its way to the stadium – and now that your journey is over, I find myself grateful for all of the emotions you exposed me to. You see, it takes a lot to dislike a team as much as I've disliked you – and, in some ways, you've made me the rabid fan that I am.

So, thank you, Bobby – and here's to hoping you become as bitter towards me and the Mets over the next 14 years as we've become towards you and the Braves.

Have a happy and uneventful October, and weÂ'll see you next April."
Mets fans, our long National (League) nightmare is officially over. Braves fans, you shove those styro-foam tomahawk chopper thingies right up your poop chutes (and let's hear that stupid chant while you do it).
*** Apologies to my relations in Norcross, GA who know I'm only teasing. ***
Posted by: Gary at 04:30 PM | Comments (1) | Add Comment
Post contains 243 words, total size 2 kb.
September 10, 2006
Are You Ready For Some Football?!?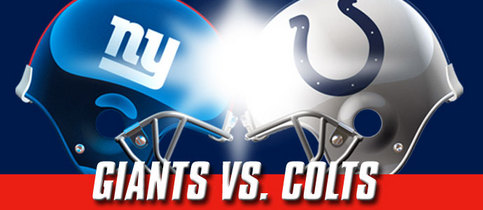 The NFL has been frothing at the mouth over this one: the Manning Bowl.
Win or lose it should be a pretty good game.
Nothing like the first day of football season. Go GIANTS!!
-----------------------------------------
UPDATE: 11:25pm
Colts 26
Giants 21
Aw, crap. Not to take anything away from the Colts. They're a playoff caliber team. But jeezus! Dropped picks. Missed field goal. Give the ball back right after an interception. Penalties left and right. Bogus offensive pass interference call.
The fact is that the Giants defense completely shut down the Indianapolis rush. They could have won this game if they had stayed focused and executed. They didn't.
If they do, then the Giants are a playoff caliber team. Let's hope this is an aberration. If they repeat this kind of performance again - with this schedule - they're in deep sh*t.
One other note on NBC's coverage. I hate the fact that they almost never show the play clock.
Posted by: Gary at 05:00 PM | No Comments | Add Comment
Post contains 172 words, total size 1 kb.
September 07, 2006
Lovin' Every Minute Of It
The NY Mets magic number is now
8
. Well on their way to de-throning the Atlanta Braves, the team is scheduled to play one more series in Turner Field starting Sept. 27th. The Mets will have wrapped up the division title long before then, however. It would have been interesting to have them clinch the division during that final run through Atlanta's house, but...eh...oh well.
The NY Daily Post has an article that quotes Braves pitcher John Smoltz as saying "we're not a below-.500 team".
66-73? 20.5 games out of first?
Yes you are, Johnny. Yes, you most certainly are. Not easy to take, is it.
Have a nice winter.
Posted by: Gary at 01:47 PM | Comments (1) | Add Comment
Post contains 120 words, total size 1 kb.
22kb generated in CPU 0.0583, elapsed 0.2488 seconds.
116 queries taking 0.2394 seconds, 237 records returned.
Powered by Minx 1.1.6c-pink.