January 08, 2006
Wildcard Weekend: Giants v. Panthers
UPDATE:
Hoo boy-howdy. That really sucked. Fortunately I was spared from watching this fiasco on tape because I checked the end on WFAN. Disappointed? Hell yes. But I've been a Giants fan for more than twenty-five years. I have had moments of elation and periods of misery. But one important lesson I've learned: the importance of "getting over it." The Giants should be proud of what they accomplished this season.
It's unfortunate that their season had to end in their own stadium on such a sour note. But the season was pretty much over as far as I was concerned. It's time the boys got some well earned rest. Time to re-tool the linebacking corp and the secondary. We have a draft to plan for.
--------------------------------------------------------------------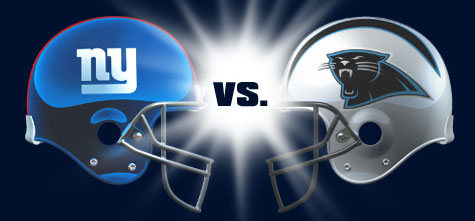 Well, the Giants played it close than I would have liked last week. The Raiders were not about to lay down and gave New York a competitive game. But in the end the Giants did what they had to do.
As I've said before, at this point in the season my expectations going in have been exceeded. But reality is a bitch. The Giants just aren't good enough to go all the way. I think being at home, the Giants have a better than 50/50 chance today. Despite the injuries on defense, I think they can hold their own. But while Coach Coughlin may be tempted to air it out today, they should learn a lesson from a couple of weeks ago when Dallas beat the Panthers on the ground. If the offensive line can just keep the false starts to a minimum, Tiki Barber can get 30+ touches this afternoon. If he does, he will wear out Carolina's defense and the Giants will win.
New York needs to avoid turnovers at all costs. If they give the Panthers the opportunity, Carolina will make the most of it.
There are about twenty some-odd players who've never experienced a playoff game. It would experience for them to have at least one win under their belt heading into next season.
Posted by: Gary at 09:30 AM | No Comments | Add Comment
Post contains 354 words, total size 2 kb.
January 03, 2006
"The Kid" Turns A Quarter Century
Happy Birthday, Eli Manning who turns 25 today.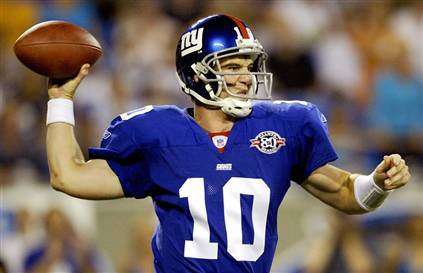 No pressure or anything. Just his first playoff game coming up on Sunday. Go get 'em!
Posted by: Gary at 10:05 AM | No Comments | Add Comment
Post contains 36 words, total size 1 kb.
16kb generated in CPU 0.0142, elapsed 0.0617 seconds.
111 queries taking 0.0547 seconds, 225 records returned.
Powered by Minx 1.1.6c-pink.