December 04, 2006
Tom Returns To Mets
This news is a little stale but as a Mets fan I wanted to weigh in on it. I'm really happy Glavine
will be coming back to New York
for what will likely be his last year in MLB. Just ten wins away from number 300, he's considered his options (in the context of his family who lives in Atlanta) and will be taking the mound for the Mets come April.
Not only is Glavine a solid arm in the rotation but I've always liked him, even when he was striking out Mets as a member of the Braves. Some fans hold a bit of a grudge against him because of his role with the player's union and the strike of '94 but Glavine has always been a class act. The head office in Flushing entered into a gentleman's agreement with the future Hall-of-Famer last year when they renegotiated his contract (something Glavine was not obliged to do), in which both parties would not act on their respective off-season options in order that Glavine could consider an opportunity to sign with Atlanta, if there was one.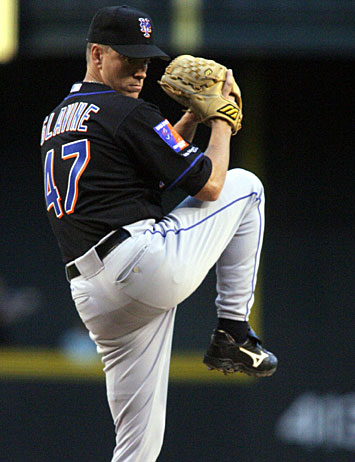 The Mets had asked Glavine to give them a definitive answer before the start of the winter meetings in Orlando so they'd know whether or not they needed to pull the trigger on a deal for his replacement. Glavine could have reneged and waited for Atlanta to clear some salary, but he acted in good faith with the Mets and re-signed last Friday.
The strain caused by Tom's separation from his kids during the school-year portion of the MLB season has been tough. As a father, I can completely sympathize. And if the team had just given him some more run support a couple of years ago, he may very well have already hit his 300-win goal which is his stated trigger for retirement. It's extremely likely that number 300 will occur sometime this summer and it'll be nice for him to hit it as a Met, making his years here in New York that much more meaningful.
Welcome back, Tom. We would have missed ya.
Posted by: Gary at 11:16 AM | Comments (1) | Add Comment
Post contains 360 words, total size 2 kb.
1
This Bravos fan holds a grudge. Keep 'im.
Posted by: Georgia Girl at December 04, 2006 01:45 PM (ZMwFa)
Comments are disabled. Post is locked.
15kb generated in CPU 0.034, elapsed 0.1264 seconds.
114 queries taking 0.1083 seconds, 227 records returned.
Powered by Minx 1.1.6c-pink.