September 25, 2005
Giants V. Chargers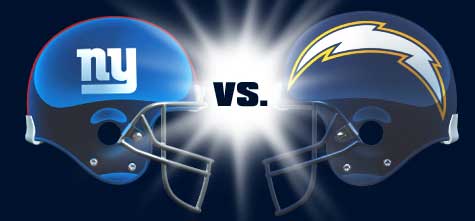 UPDATE: 11:56pm
Well, that was fun. Seriously, San Diego needed this game. Already two in the hole, the next several weeks presents a brutal schedule with such teams as: New England, Pittsburgh, Oakland, Philly...ouch. If they lost tonight, they could pretty much have written the season off. This game had a playoff intensity about it.
The Chargers played hard and they played to win, and my hat's off to them. To be honest I'm a lot less annoyed at the loss itself as I am of the fact that San Diego's star running back, LaDainian Tomlinson, was so often referred to as "L.T."
There is only ONE L.T. and that's Hall Of Fame Linebacker #56 Lawrence Taylor. And to have the announcers on ESPN constantly singing "L.T.'s" praises really got on my nerves. Let the guy come up with his own friggin' nickname.
Anyway, I was impressed with Eli Manning's poise throughout this game. He never got rattled, not once. And he kept making awesome passes well after the game seemed to get out of reach. And to come back from a 21-3 deficit and end the second half within one point of Chargers was encouraging. Manning has proven that good things will happen in his career. This is only the beginning.
-----------------------------------------------------------
I've heard people say this week that the Chargers are not really an 0-2 team. That's a crock. If you have no wins and two losses then guess what? You're an 0-2 team and you earned that record. Potential is for shit in the NFL.
Face it, there are a few elite teams in the league, a few dogs, and on any given Sunday any of those teams in the middle is capable of beating any other team in the middle. Parity in Pro Football is the reality. So I don't care how "good" on paper a team is supposed to be. If they don't play well, they're going to get their asses handed to them.
Now the Chargers may very well beat the Giants tonight. But if they do it's not because they "should be able to", it'll be because they played smarter, harder and better.
But my money is on New York. If San Diego is really better than their record would indicate, they're going to have to prove it.
And of course if the Chargers do win, I'll chalk it up to fact that they were due. ;-)
Posted by: Gary at 04:19 PM | Comments (1) | Add Comment
Post contains 410 words, total size 2 kb.
1
I've heard people say this week that (their team) are not really (sucking that badly) That's a crock. If you have no wins and (a f*****g boatload of) losses then guess what? You're (a sucking) team and you earned that record. Potential is for shit in the NFL.
Amen, brother! -
Ed. note: I don't make a habit of editing comments, but this is a relatively family-friendly blog, dude. No F-bombs, please.
Posted by: Victor at September 26, 2005 08:11 AM (L3qPK)
Comments are disabled. Post is locked.
16kb generated in CPU 0.0134, elapsed 0.06 seconds.
114 queries taking 0.0532 seconds, 227 records returned.
Powered by Minx 1.1.6c-pink.