September 10, 2006
Are You Ready For Some Football?!?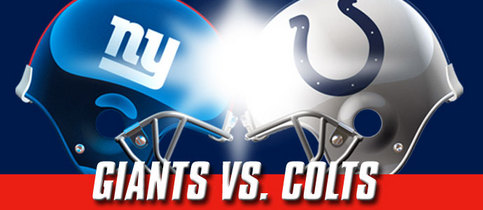 The NFL has been frothing at the mouth over this one: the Manning Bowl.
Win or lose it should be a pretty good game.
Nothing like the first day of football season. Go GIANTS!!
-----------------------------------------
UPDATE: 11:25pm
Colts 26
Giants 21
Aw, crap. Not to take anything away from the Colts. They're a playoff caliber team. But jeezus! Dropped picks. Missed field goal. Give the ball back right after an interception. Penalties left and right. Bogus offensive pass interference call.
The fact is that the Giants defense completely shut down the Indianapolis rush. They could have won this game if they had stayed focused and executed. They didn't.
If they do, then the Giants are a playoff caliber team. Let's hope this is an aberration. If they repeat this kind of performance again - with this schedule - they're in deep sh*t.
One other note on NBC's coverage. I hate the fact that they almost never show the play clock.
Posted by: Gary at 05:00 PM | No Comments | Add Comment
Post contains 172 words, total size 1 kb.
Comments are disabled. Post is locked.
14kb generated in CPU 0.09, elapsed 0.1895 seconds.
118 queries taking 0.163 seconds, 224 records returned.
Powered by Minx 1.1.6c-pink.