December 11, 2006
Why Do We Love Jack Bauer?
I've heard a lot about the appeal of "24" over the years, but
this quote over at Libertas really nails it
:
Jack Bauer is a hero in the oldest and truest sense: He believes in something bigger than himself and is willing to die for it. He believes in America, our government, and the office of the President. HeÂ's not some reluctant figure pushed to heroism. He enters the breach willingly. He is a patriot and heaven help those who are not.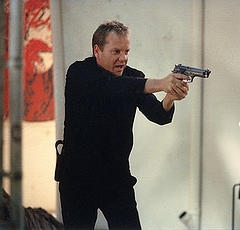 And that's so damn refreshing in a world of crappy, narcissistic, politically-correct "entertainment".
34 more days until the premiere of Season Six.
Posted by: Gary at 01:45 PM | No Comments | Add Comment
Post contains 118 words, total size 1 kb.
Comments are disabled. Post is locked.
13kb generated in CPU 0.0126, elapsed 0.062 seconds.
112 queries taking 0.0549 seconds, 225 records returned.
Powered by Minx 1.1.6c-pink.