January 24, 2007
"Grey's Anatomy" Star Sent To Re-Education Camp "Treatment Facility"
For using an "anti-gay remark"
in referring to one of his co-stars.
According to an insider, Isaiah [Washington], who issued an apology for his statements on Jan. 18, agreed to undergo a psychological assessment after talks with ABC executives.

The married 43-year-old father of three was spotted entering the facility at 9 a.m. today (Jan. 24).

Hoo-kay.
Can't he just pay a visit to the "Museum of Tolerance"?
Probably NSFW
"Dude, tolerance kicks ASS!"
Posted by: Gary at 03:40 PM | No Comments | Add Comment
Post contains 91 words, total size 1 kb.
January 22, 2007
Everything I've Learned About Life, I Learned From Watching "24"
Lesson One:
DO NOT JERK JACK BAUER'S CHAIN! EVER!

...even if you're his brother. Just don't. If you do, you've brought it on yourself.
Also, memo to Joel Surnow and company - don't kill Chloe. I have no idea if Chloe is on the Season Six "hit list". But I do know you like to show that in this dangerous world, people we love die. Okay, we get that.
Let me repeat this. Don't kill Chloe. Seriously. You can almost kill her. You can put her in mortal danger. That's cool. But please do not kill Chloe. The show is better with Chloe.
Are we clear here? Let me quote Jackie Gleason from "Smokey And The Bandit": "You can think about it. But don't do it."
That is all.
Posted by: Gary at 10:00 PM | Comments (1) | Add Comment
Post contains 149 words, total size 1 kb.
January 19, 2007
Don't Forget Your BSG
Moving to Sundays. Starting this Sunday at 10pm.
There's a piece up on NRO showing how relevant the show is to today's events. A good read.
Posted by: Gary at 08:46 PM | No Comments | Add Comment
Post contains 34 words, total size 1 kb.
January 18, 2007
Why I Don't Get "American Idol"
OK, I'll admit that I've come late to the table for successful shows in the past and ended up kicking myself for not signing on sooner. The best example of this is "24", where this season is the first one I've actually watched as it's first being broadcast.
But I have to say that I really don't understand why so many viewers are compelled to tune into "American Idol" week after week to watch what - IMO - is nothing more than a version of "The Gong Show" that actually takes itself seriously.
It almost seems that there are two kind of TV viewers in the world - those who enjoy watching other people being embarrassed and humiliated and those (like myself) who not only take little pleasure in this but actually feel a certain level of discomfort in watching things that have such a high degree of "the wince factor".
To me, that's what "American Idol" is all about. And I really don't get people who like this sort of thing. Yes, in the end there is an excitement about the competition of the finalists and the eventual winner. Viewers seem to pick contestants like horses and root for them for as long as they're in the race. But if that's the really satisfying part, why not just start with the finalists - those who clearly have the talent to make the final cut? Why show the ones who by any objective standards have absolutely no qualifications to be in this competition. Just to torture them on national television? Do the people who select them to audition for Cowell and Co. have a streak of sadism in them that borders on the sociopathic?
Newsweek online has some observations from a correspondent that just earned the "AI" assignment who had never really watched it before. Here is part of his assessment:
'I was stunned by the show's casual cruelty, and I'm not talking about Simon Cowell's famous tongue-lashings. Obvious rejects—the sad, deluded, tone-deaf dreamers—were permitted to hang themselves for a full, painful minute or two, even though their awfulness stopped being funny after about 20 seconds. The first featured auditioner of the night, a sweet-looking blonde girl from Minnesota named Heather, who wasn't awful—just ordinarily untalented—crumbled to her knees after the judges sent her packing and began begging, "Oh, please, please…," then walked away sobbing. Watching her, I felt physically uncomfortable, like an uninvited guest in her house, invading her privacy. I kept thinking, "Which part of this is supposed to be fun?"'
He goes on to describe how rejected contestants are often shown trying to unsuccessfully push through the wrong door to escape this humiliation, as if to confirm the person's ineptitude. Sounds pretty awful to me.
Look, I don't mean to criticize the fans of the show. But for a while I was beginning to wonder whether or not I was being too harsh on "AI", not having really watched all that much of it. But the piece above kind of reinforces what I had suspected about the show - that the bulk of this phenomenon is centered on taking an hour out of one's week to stop and watch the talent show equivalent of a nasty car-wreck.
I'll continue to pass on this.
UPDATE 1/19/06:
Lorie Byrd offers another perspective on the early smackdowns:
"[Simon] Cowell is sometimes incredibly rude, but what makes him really different from most on television is that he tells people the hard truth as he sees it, without apology. Today childrenÂ's sports are often played without keeping score, lest one team have to lose. In a world where it is not uncommon for each and every child on a sports team to get a trophy so that no one is made to feel left out, Cowell provides a breath of politically incorrect air. He reminds viewers that not only can everyone not win, but that everyone does not deserve to win."
Point taken. However, it doesn't make it any easier for me to watch.
Posted by: Gary at 09:30 AM | Comments (2) | Add Comment
Post contains 680 words, total size 4 kb.
January 15, 2007
Here's Irony For Ya...
I was out today much, much longer than I expected to be. Racing home with law-breaking speed I pulled into my driveway at exactly 8:01pm.
Just in time to see the "Previously, on 24..." clip.
And today is Talk Like Jack Bauer Day.
You can bet your bottom dollar I was talking like Jack Bauer from 7:30 on.
Sheesh!
And for what it's worth, the writers of "24" just reaffirmed what I always knew about the show: NOTHING is off the table.
Posted by: Gary at 10:07 PM | Comments (3) | Add Comment
Post contains 90 words, total size 1 kb.
Talk Like Jack Bauer Day
The following takes place between 10:00am and 10:05am.
I'm off from work, it's raining outside and the wife and kids are nagging for something to do. My name is Gary the Ex-Donkey. And this will be the longest day of my life.
But it's also Talk Like Jack Bauer Day.
You probably think I can't go a whole post talking like Jack Bauer. Well, you're wrong.
This morning I awoke to find orange juice on floor in front of the fridge. I immediately headed to the living room and tied my six-year old to one of the easy chairs with duct tape. I looked him in the eye and told him, "You're going to tell me what I want to know about that orange juice. It's just a matter of how much you want it to hurt."
No response.
"Tell me who you work for!" I yelled.
No response. It was then that I noticed that the Wiggles were on the television just over my shoulder. He hadn't heard a word I said.
My wife asked me what the hell I was doing. "Dammit, I don't have time for this", I screamed. "We need paper towels - NOW. Tell me where they are!"
She told me they were somewhere under the sink. I instructed her to upload the information to my PDA immediately. She just rolled her eyes and began peeling the duct tape off my son.
"Gary," she said. "Listen to me, we have to get these kids out of the house today or they'll drive us crazy."
"You think I don't know that?!?" I shot back. "Look, I think we should head over to the Maritime Center in Norwalk this afternoon. I know that the kids like sea creatures, so that should pacify them. I'm not sure if they're open today because of the holiday so I'm going to need you to hack into their mainframe and find out what their hours are. We don't have a lot of time. Do it NOW!"
I tended to the orange juice spill while she went logged onto her work station.
"Well?", I called to her. "Are they open?"
No response.
I raced into the computer room. "Dammit, tell me if they're open!"
"Yes, they're open. Normal hours." she said.
"You better pray that this information is correct. There are thousands of lives at stake. Not the least of which are yours and mine."
"Whatever, Gary." she said, "I'll start getting the kids ready".
"Do it fast!" I yelled, "We're running out of time!"
...10:04:57...
...10:04:58...
...10:04:59...
...10:05:00...
Posted by: Gary at 10:05 AM | Comments (1) | Add Comment
Post contains 437 words, total size 2 kb.
January 12, 2007
Jack's Back!
Hold on to your seats. The new season of "24" is about to explode onto your TV.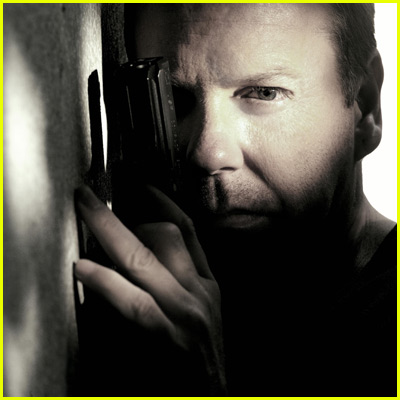 I've seen all prior seasons only on DVD or through repeats shown on "A&E". And the most I've ever had to wait between episodes is one day.
Can I handle once a week? What choice to I have?
And I'm all the more "Jack"ed up to watch the show this season because of these guys.
Two-hour premiere Sunday night at 8pm on FOX (followed by two more episodes Monday night).
UPDATE:
Jack Bauer kills a man with his jaws. Jack Bauer kicks ass!
Posted by: Gary at 01:15 PM | Comments (5) | Add Comment
Post contains 104 words, total size 1 kb.
33kb generated in CPU 0.0837, elapsed 0.2212 seconds.
117 queries taking 0.1742 seconds, 248 records returned.
Powered by Minx 1.1.6c-pink.