December 27, 2006
Set Your VCRs/DVRs Alert
This might be hard for some to find on their local cable systems because I have no idea how widespread the "Sundance Channel" is. But
John Hinderaker from Powerline
gives us a heads up that there will be a documentary called "Blog Wars" airing on that channel tomorrow (Thursday, the 28th). My cable system has it listed for 10pm but yours may be different so check tvguide.com.
It's basically an account of the role that blogs played in the CT Senate race between Ned Lamont and Joe Lieberman. The focus is the primary race and John says that it's presented in a fairly neutral way. This is the quote, however, that piqued my interest:
Others, no doubt, will draw different lessons from Blog Wars, but for me, the film was an expose of the liberal bloggers, who come across as vapid and remarkably vulgar. I repeatedly found myself wondering why on earth they had permitted Rogan to film a particular scene, or why, knowing that his camera was filming, they behaved as they did. I think part of the explanation is that James is such a nice, unthreatening guy that his subjects are somewhat disarmed.
I plan on DVRing it and after I watch it I'll post a review.
Posted by: Gary at 10:07 AM | No Comments | Add Comment
Post contains 215 words, total size 1 kb.
December 15, 2006
BSG Mid-Season Finale Tonight
"Mid-season finale" sounds like an oxymoron, I know. But it looks like the show will take its holiday break after tonight and pick up with the second half of the season in January.
They did this last year with "Pegasus", only that was a much longer break. It would be another FIFTEEN weeks before we would get to "Resurrection Ship: Part One". Sheesh.
Being as tonight's episode is number 11 of Season Three, I'm hoping this means we're in for another 11 episodes starting January 21st (which is the new night, Sunday).
To tide you over a fairly well-done Lee & Kara Viper battle montage set to Yello's "Oh Yeah". (you know, the "ow, ow...ch..chiketa..chik...ahhh...ow...ow" song from the closing credits of "Ferris Bueller's Day Off"):

So get ready: Cylons and Humans rumble over what may be a newly-discovered secret about how to find Earth.

"The Eye of Jupiter"
9pm on Sci-Fi
Posted by: Gary at 02:22 PM | Comments (4) | Add Comment
Post contains 159 words, total size 1 kb.
December 11, 2006
Why Do We Love Jack Bauer?
I've heard a lot about the appeal of "24" over the years, but
this quote over at Libertas really nails it
:
Jack Bauer is a hero in the oldest and truest sense: He believes in something bigger than himself and is willing to die for it. He believes in America, our government, and the office of the President. HeÂ's not some reluctant figure pushed to heroism. He enters the breach willingly. He is a patriot and heaven help those who are not.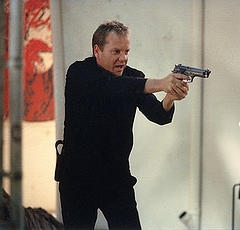 And that's so damn refreshing in a world of crappy, narcissistic, politically-correct "entertainment".
34 more days until the premiere of Season Six.
But who's counting?
Posted by: Gary at 01:45 PM | No Comments | Add Comment
Post contains 118 words, total size 1 kb.
December 08, 2006
Tonight...On BSG
"I missed you, Lee."
"I missed you too, Kara."
"Sorry about kicking your ass in that boxing ring."
"Um, if memory serves, Starbuck, I believe I kicked your ass."
"Yeah, in your dreams."
"Shut-up and look serious for the camera."
"Wuss."
Okay, bygones...
Tonight's episode: Soylent Green is Cylons!

"The Passage"
9pm on Sci-Fi
I'm going to have to DVR this one and watch it late. Holiday stuff at the parent's condo, ya know.
Posted by: Gary at 02:45 PM | Comments (3) | Add Comment
Post contains 78 words, total size 1 kb.
December 01, 2006
BSG Is Back
After a one-week hiatus that felt like a month. And it looks like this one was worth waiting for.
At the end of the last episode of Season Two, the time line jumped ahead one year from the settlement of "New Caprica" to the invasion of the Cylons.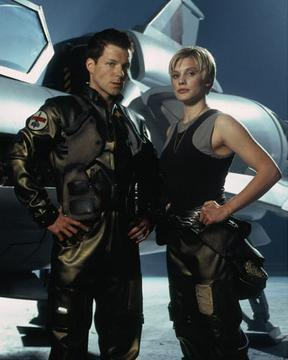 So what happened during all that time? Apparently, LOTS. In particular there was a little horizontal hootchie-cootchie between Lee "Apollo" Adama and Kara "Starbuck" Thrace. And it also looks like there's some unresolved anger issues between the two. We'll get some good stuff through flashback.
Skye at Midnight Blue has a spoiler clip. Go on. You know you want to. There's also a Jamie Bamber beefcake shot for you ladies. And in other news, starting in January the show moves to Sunday nights at 10pm.
Tonight's episode is "Unfinished Business" - 9pm on Sci-Fi. Be there!
Posted by: Gary at 02:45 PM | Comments (8) | Add Comment
Post contains 150 words, total size 1 kb.
28kb generated in CPU 0.0521, elapsed 0.1579 seconds.
115 queries taking 0.1305 seconds, 247 records returned.
Powered by Minx 1.1.6c-pink.