August 25, 2006
BSG Friday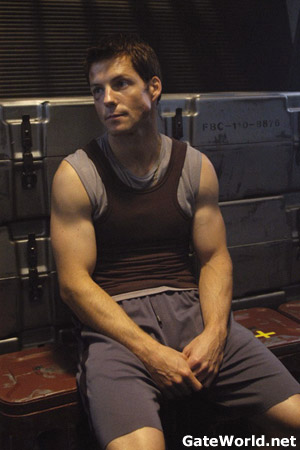 Galactica Gets Dark(er) in Season Three
The first two seasons of Battlestar Galactica weren't exactly lighthearted affairs, but according to executive producer Ron Moore and star Edward James Olmos, the upcoming third year will be its darkest yet. In separate interviews, the two recently spoke to Now Playing about where the show is going and what's in store for both the human and Cylon factions (Hint: It's not going to be pretty for either side).

"The writing, the story, the character development is devastating," Olmos says. "I cannot tell you. I worked last week and I've never had a week like that in my life, because everything that's happening to the human species is into the final steps of its annihilation. So every single moment becomes the end of the existence of the human species, and it's deadly when you are working at that level constantly. The attention is overwhelming. Both Mary [McDonnell] and I are sitting there going, 'My God. This is too much.'"

Olmos revealed that the humans will use a pandemic to try and annihilate "a race" (he didn't say which one, but it's not difficult to guess) by infecting them with a deadly virus. He also talked about returning to the director's chair for the 12th episode, which will be the first to air after the mid-season hiatus. The tone of the episode will be quite different from his previous effort, last season's "Tigh Me Up, Tigh Me Down."

"This one will be more connected to the main body," he says. "The other one was a comedy. We decided to try one in the first season just to lighten things up. And it worked well. I thought it worked very, very well. It was very different, and it introduced some very strong characters. And in turn, those characters now are going to devastate you. What happens to them is brutal. It's very sad."

For executive producer Ron Moore, the turn to the dark side is something that was always part of the show's natural progression. "I think we deal with some dark material in the third season," Moore agrees. "I don't know that it's any darker than anything we've dealt with previously, but the show continues to sort of take risks and be provocative and do challenging stuff. I'm happy about that. But the show is not nihilistic. The show is not a bleak show about really depressing things. I think it's really just about how people react and how people are and how people behave in situations and that's what you're tuning in to see."

Moore adds that he's not worried about the series getting too serious. There's always a light at the end of the tunnel. "The show's always had a dark premise at its heart, [but] the show's also always been about hope and the human condition and the fact that these people struggle on in spite of everything that happens to them."
Posted by: Skye at 09:42 PM | No Comments | Add Comment
Post contains 492 words, total size 3 kb.
August 18, 2006
BSG Friday
For this week's BSG installment, I thought I'd share a favorite BSG music video featuring the song "Someone To Watch Over Me" by the incomparable Ella Fitzgerald.
**SIGH** Can anyone deny that Lee and Kara's respective relationships with Dee and Anders simply pale in comparison to the chemistry of Lee and Kara?
Posted by: Skye at 10:13 PM | No Comments | Add Comment
Post contains 56 words, total size 1 kb.
August 11, 2006
BSG FRIDAY
Season 3.0 Promo Picture: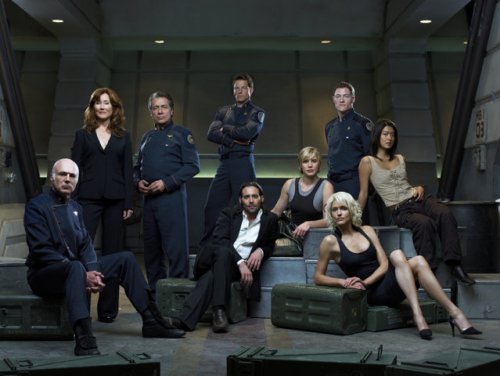 A few things come to mind when viewing this picture:
The Anders/Dualla faction is NOT present..YES!!!
Lee (Apollo) seems to have lost his beer gut and gained a tan...when you tan in space does anyone know?
Why is Kara (Starbuck) pictured sitting on the Cylon & Friends side?? She should be sitting in Lee's lap...
Is the former Madame President not wearing anything under her suit jacket?
I discovered an additional picture from the upcoming Season 3.0 and found it contained a shocking spoiler: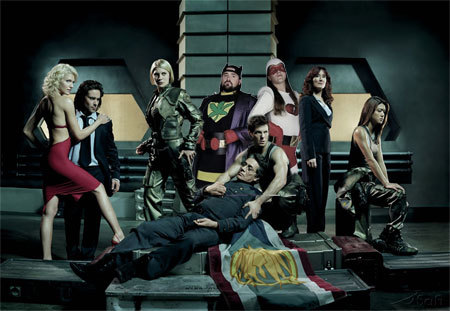 I have a nagging suspicion that Reuters might have had a hand in this...What do you think?
Is It October Yet?
The usual political undercurrents lacing the plotlines of BSG look as though they will be turned up a notch in Season 3.0 based on the recent interview given by Ron French, a BSG Line Producer:
KTW: I understand the show is pretty political. What's the most risque episode you've been involved with?

RF: "Well, it's on cable so there's quite a bit of risque stuff (laughs). The subject matter, actually, is very political and it's amazing how much, especially when the Americans attacked Iraq, how much our story line began to follow that, even to the point of suicide bombers. [Ron Moore] did an interesting thing. He reversed the roles. The heros were the insurgents fighting against the Cylon attackers, which were essentially the American side of the Iraq war. And it's interesting because, if anything else, it opened up a lot of eyes as far as I was concerned, of everyone has a point in what they're doing, whether they're the insurgents or whether they're the attackers in the first place. I thought that was really good."
Posted by: Skye at 09:47 PM | No Comments | Add Comment
Post contains 289 words, total size 2 kb.
20kb generated in CPU 0.05, elapsed 0.1426 seconds.
117 queries taking 0.1221 seconds, 226 records returned.
Powered by Minx 1.1.6c-pink.