March 10, 2006
BSG Season Finale Tonight!
Let's Go.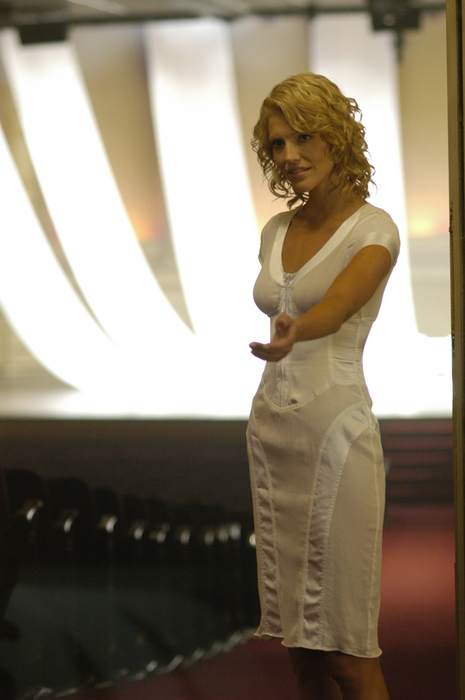 Episode #35: "Lay Down Your Burdens (II)"
Baltar captures the vote, leaving Roslin to consider stealing the election when she starts suspecting he's collaborating with the Cylons.

10pm Sci-Fi ** This is a 90 minute episode! **
Oh, piss up a rope! OCTOBER? This is worse than the Soprano's! Frak Me!
Posted by: Gary at 06:00 PM | Comments (8) | Add Comment
Post contains 61 words, total size 1 kb.
1
In a few short minutes..BSG!! Looking forward to the awkward reunion of Kara, Lee and Anders
) Oh...It's starting now...
Posted by: skye at March 10, 2006 04:57 PM (cANwE)
2
Okay, I watched the first 30 minutes and have to give up because my real life version of Anders is asleep on the couch. (Wuss.) Anyway, we will watch the entire ep tomorrow. Just have to say, Skye couldn't have chosen a more apt word than "awkward" to describe the "reunion" between those three. What a scene. Looking forward to seeing more...tomorrow.
Posted by: Starbuck at March 10, 2006 10:48 PM (EvFfn)
3
An hour through, here on the Left Coast- er, I mean, West Coast. (ok..no, I don't).
October
? You're not telling me that the new eps don't happen until then, do you? That would be a pisser! And yes, I felt bad for Lee. How drunken rude!
Posted by: Wordsmith at March 11, 2006 01:50 AM (nrGCx)
4
Frak.......next season better have 50 episodes if we have to wait until October. :-(
Posted by: Wordsmith at March 11, 2006 02:48 AM (nrGCx)
5
Wordsmith, We will need at least 50 episodes to flesh out the numerous plot points that were exhibited in the season finale. Uhmm..am I the only one who liked that awkward scene? http://vienna-dreams.livejournal.com/
Posted by: skye at March 11, 2006 01:05 PM (cANwE)
6
Wow, major miscalculation by the Left Coast producers, judging by the reaction to the season ender across the Web! I won't spoil the plot, but the producers obviously went after Bush - to make him Baltar - and instead we see what would've happened under Gore or Kerry. :shock: And that's what people think and are angry about, apparently! They're also miffed that the Cylons are Muslims, or so they think. (Well, they do believe that their God resurrects them immediately after they commit suicide or die in holy battle, I guess.) Still, maybe it's just a TV show, people.
Posted by: Mike Spurlock at March 11, 2006 11:08 PM (+ZY5H)
7
Skye, which awkward scene.
Posted by: Gary at March 12, 2006 03:32 PM (KLdKP)
8
"Which awkward scene???" How about the one where I'm totally making out with Anders in front of Lee??? "Get a room!" Gosh, I lack class! But, Anders is so totally hot that it's worth the indignity!
And, anyway, he's going to die soon, so I'll be pining for Apollo again come October. I have to say, I hate my hair really long like that. And, I hope I wake up from THIS TRULY AWFUL DREAM SEQUENCE IN OCTOBER TOO!!!!! FRAKKING TERRIBLE IDEA! It's like the finale of Felicity, when all of the sudden they jumped an entire year or two ahead. (I'm so sure all of you BSG'ers watched Felicity...) I HATE IT WHEN SHOWS DO THIS!!!!! HATE IT!!!!! And, Gary, you aren't going to talk me into liking it!!! (Yes, that is how I really feel.)
Posted by: Starbuck at March 13, 2006 12:13 AM (EvFfn)
Comments are disabled. Post is locked.
17kb generated in CPU 0.017, elapsed 0.0843 seconds.
114 queries taking 0.0751 seconds, 234 records returned.
Powered by Minx 1.1.6c-pink.