September 02, 2006
That's supposed to be an improvement?!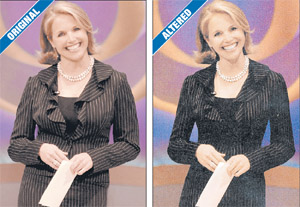 THE EYE LIES:
CBS anchor gal Katie Couric as she looked for real at Carnegie Hall in May, and about 20 pounds lighter in a Photoshopped portrait that appeared in the network's in-house mag.
Read the story.

Hmm....neither is still an accurate representation. I think this cartoonist got it right: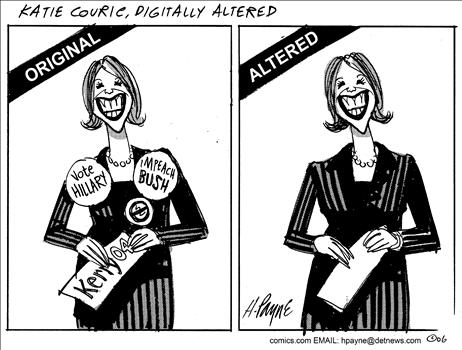 Hat tip to: The Educated Shoprat

BREAKING NEWS UPDATE! This just in:
Seeing as how I am as big a fan of Battlestar Galactica as skye and Gary are, I was shocked....shocked I tell you, to discover that skye's beloved photo of Lee Adama was photoshopped. *Gasp!*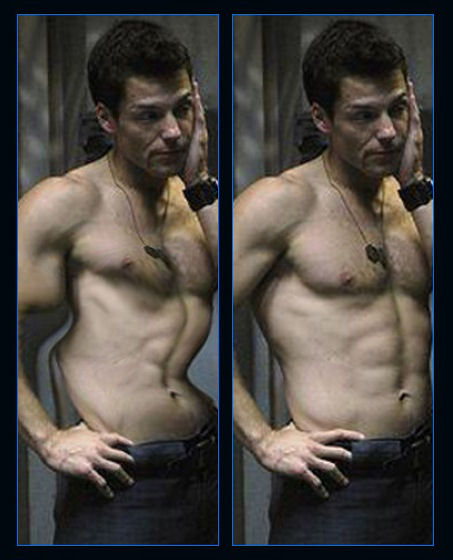 The question is: Which is the before...and which is the after? The quality of photoshopping is so advanced now, it's soooo hard to tell the real photo from the phake...-er, fake.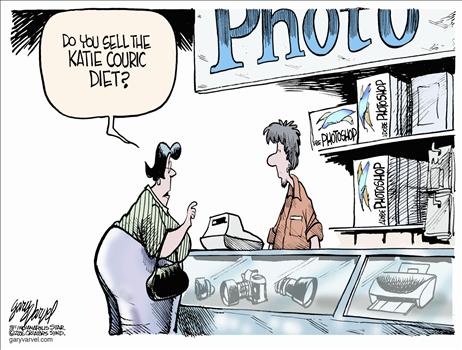 Posted by: Wordsmith at 04:36 PM | No Comments | Add Comment
Post contains 140 words, total size 2 kb.
Comments are disabled. Post is locked.
14kb generated in CPU 0.011, elapsed 0.0575 seconds.
112 queries taking 0.0517 seconds, 227 records returned.
Powered by Minx 1.1.6c-pink.