November 20, 2005
"Peace Mom" Writes A Book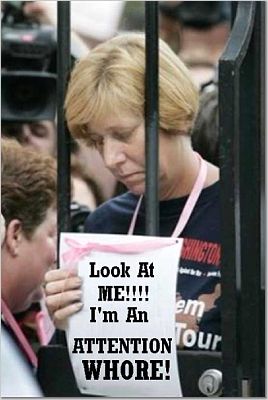 Now you just knew this was going to happen.
Now those journal entries are in her book, "Not One More Mother's Child," to be released Wednesday. The paperback also contains some of her speeches to peace groups earlier this year, letters to politicians and writings since leaving Crawford.

"I never wrote anything more than a note to excuse my kids from school before Casey was killed, so to see something I wrote in print with my name on it is amazing," Sheehan told The Associated Press by phone from her home in Berkeley, Calif.

Sheehan gained national attention during her 26-day vigil on a Texas roadside near President Bush's ranch in August. She refused to move until the president met with her or ended his vacation. That moved Arnie Kotler, the founder of a Hawaii publishing company who saw news coverage and read Sheehan's Internet blog entries from the protest.

"I thought, 'This is already a book. This is incredible,'" said Kotler of Koa Books, which printed about 20,000 copies. "We got it done as quickly as we could, and the deepest reason is to stop the war."
Um, Koa Books? Not Random House? Not even Michael Moore's publisher Simon & Schuster? Some dude in Hawaii?
Hoo-kay.
Graphic filched from Theodore's World
Posted by: Gary at 08:27 AM | Comments (3) | Add Comment
Post contains 220 words, total size 2 kb.
1
Oh man this is horrible.It just never stops with this vile person Cindy Sheehan. I hope nobody buys her book. That is interesting that it is Koa Books. hahaha I never heard of it. Thank you Ex-Donkey for the information. I really like your Blog.
Posted by: Wild Thing at November 20, 2005 09:34 AM (tj1zH)
2
Why thank you much. I like yours as well! You're like a one-woman USO!
Posted by: Gary at November 20, 2005 03:57 PM (0eYgQ)
3
KOA Books? Is that Kampground of America books? Perfect for someone who camps in a ditch.
Posted by: Pam at November 21, 2005 12:08 PM (rx9LD)
Comments are disabled. Post is locked.
16kb generated in CPU 0.05, elapsed 0.1112 seconds.
120 queries taking 0.0942 seconds, 229 records returned.
Powered by Minx 1.1.6c-pink.