November 28, 2005
The End Of The Trainwreck?
If there was ever a person who grossly overestimated their own noteriety, it's this gal: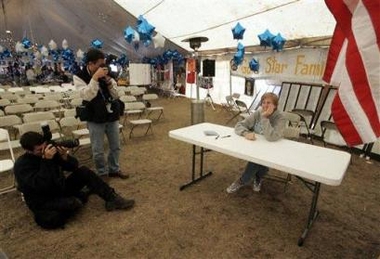 Cindy Sheehan waited this past Saturday for the crowds of supporters to come out to her camp in Texas and have her autograph copies of her book. It was a long wait. They didn't come.
This woman, who jumped the shark weeks ago, still holds on to the hope that she will be the spark that ignites the fire of an anti-war uprising the likes of which this country hasn't seen since the 1970's. In doing so, she has made a fool of herself. She has alienated her family. She has driven away her husband. And all the Left-wing nutjobs that she thought were her friends have squeezed the last bit of anti-Bush propaganda out of her and tossed her into the trashcan like an empty tube of toothpaste.
Now she has nobody, except for two guys with cameras who showed up for the free coffee and donuts.
Posted by: Gary at 09:47 AM | Comments (1) | Add Comment
Post contains 173 words, total size 1 kb.
November 20, 2005
"Peace Mom" Writes A Book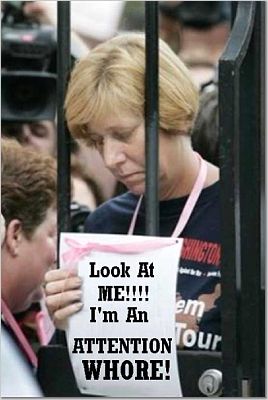 Now you just knew this was going to happen.
Now those journal entries are in her book, "Not One More Mother's Child," to be released Wednesday. The paperback also contains some of her speeches to peace groups earlier this year, letters to politicians and writings since leaving Crawford.

"I never wrote anything more than a note to excuse my kids from school before Casey was killed, so to see something I wrote in print with my name on it is amazing," Sheehan told The Associated Press by phone from her home in Berkeley, Calif.

Sheehan gained national attention during her 26-day vigil on a Texas roadside near President Bush's ranch in August. She refused to move until the president met with her or ended his vacation. That moved Arnie Kotler, the founder of a Hawaii publishing company who saw news coverage and read Sheehan's Internet blog entries from the protest.

"I thought, 'This is already a book. This is incredible,'" said Kotler of Koa Books, which printed about 20,000 copies. "We got it done as quickly as we could, and the deepest reason is to stop the war."
Um, Koa Books? Not Random House? Not even Michael Moore's publisher Simon & Schuster? Some dude in Hawaii?
Hoo-kay.
Graphic filched from Theodore's World
Posted by: Gary at 08:27 AM | Comments (3) | Add Comment
Post contains 220 words, total size 2 kb.
November 15, 2005
It's A Full Moon Tonight!

And you know what that means! Moonbats will gather to bark their hatred for Chimpy McBushitler and his evil Repug minions!!! Don't Go Into The Light reports that they're being drawn to Washington D.C. tonight! Lock your windows and doors! And hang garlic cloves everywhere! Oh the humanity!!
Posted by: Gary at 05:02 PM | Comments (6) | Add Comment
Post contains 73 words, total size 2 kb.
November 03, 2005
MoveOn.org: Give 'Em Hell, Harry!
Well the Lefties at MoonBat.org are really egging them on. Their latest email is sounding the alarm to its members:
It is important at this moment, when Reid and others are fighting these important fights that we make sure they know we've got their backs. They're taking a risk—they need to know we support them and recognize this sort of leadership. It's important that the Democrats don't let the issue die. We'll be working more and more over the next several months as we get close to the 2006 elections to encourage them to stand up and fight.
Yep, another year of this should do wonders for Democrat candidates.
They've even got a website: Give 'Em Hell, Harry Dot Com. Next November is going to be hell alright, for any Democrat who embraces these nuts.
Posted by: Gary at 07:25 PM | No Comments | Add Comment
Post contains 144 words, total size 1 kb.
November 01, 2005
When Liberals Attack!
Michelle Malkin's new book,
Unhinged!
, comes out today. She put up a post promoting it and it looks like a good one. As a teaser, she also posted a
collection of mugshots
from whacked-out Lefties who've been arrested for attacking Republicans and Bush/Cheney supporters.
Go check 'em out here. Pretty damn funny! You may have heard of some of them already. These people are clearly mentally ill. Interesting how you never read about Republicans or Conservatives doing goofy stuff like this. It's always Libs, suffering from BDS*.
*Bush-Derangement Syndrome.
Posted by: Gary at 11:02 AM | Comments (1) | Add Comment
Post contains 95 words, total size 1 kb.
MoonBat.org Rallying The Fringe
MoveOn.org is emailing its petition to oppose Sam Alito:
Bush's ploy to woo the far-right could reshape the High Court for decades to come—but we don't have to let that happen. The president's rock-bottom approval ratings and the scandals engulfing virtually every Republican leader have broken the spell of the right-wing spin machine. If we all speak up, together we have the power to stop this radical nominee.
Reads like an opening crawl to a Star Wars movie, doesn't it?
The email pulls quotes from the likes of "Tailspin" Teddy Kennedy and John Francois Kerry warning of the darkness spewing from Mordor the White House. Of course, neither of these two Senators had any problem voting for Alito in 1990 for his current seat on the Federal Appeals Court.
Here come the fireworks!
Posted by: Gary at 07:24 AM | No Comments | Add Comment
Post contains 139 words, total size 1 kb.
29kb generated in CPU 0.0324, elapsed 0.0814 seconds.
116 queries taking 0.0709 seconds, 246 records returned.
Powered by Minx 1.1.6c-pink.