July 27, 2006
Christmas Comes Early This Year
Rep. John "Cut and Run" Murtha will be out
stumping for 41 Congressional Democrats
this fall!
Unfortunately, he's probably going to focus on districts where he'll be preaching to the choir. But if there are any swing districts on the list this is awesome news.
But some Democrats, particularly centrist lawmakers who support [Democratic Minority Whip Steny] Hoyer, question whether Murtha can be helpful in many races that their party needs to win if they are to capture control of the House.

"I'm sure Mr. Murtha is going to be traveling extensively, but I bet you he won't be going to Blue Dog districts," one lawmaker said, referring to members of the caucus of centrist Democrats from the South. "I can't imagine that he will be very welcome in many Blue Dog districts."

The lawmaker said that while Murtha has a centrist record on many issues, voters would be most aware of his strong position against the war, which could alienate swing voters in states Bush won. The lawmaker noted that Democrats need to capture districts in those so-called red states.

A centrist Democratic candidate who requested anonymity to protect his relationships with Murtha allies said he turned down an offer for Murtha to come to his district.
One of the States he's mentioned is Connecticut! Oh boy, I hope and pray that he comes to the 2nd, 4th and 5th districts. Oh please, Oh please, Oh please!!!
Many CT Democrats (the foaming-at-the-mouth, Bush-hating variety) will be thrilled, no doubt. But the rest of us (especially Independents) will say "Hey, isn't that the goofball who proposed a full troop withdrawal and then voted against his own proposal?"
The article in The Hill also speculates that he has another reason for being so high-profile:
Murtha may be calculating that he needs to do more to help candidates if he is to counter HoyerÂ's prolific fundraising for Democrats over years. Hoyer has given $770,000 to Democratic candidates this election cycle, more than any other lawmaker, his aides say. He has also raised $2 million for candidates this cycle, they add.

If Democrats win the House in November, freshmen could determine who becomes majority leader. One Democratic candidate who said Murtha offered to come into his district said the senior Pennsylvanian is doing "spadework for his run to majority leader."

"Why else would he be wanting to come into districts like mine?" the candidate said, noting that President Bush carried it by more than 10 points in 2000 and 2004.
I'd love it if whatever candidate he's stumping for introduces him as "the next Majority Leader of the House". They can play that on the news over and over and over and it would suit me just fine.
Posted by: Gary at 09:40 AM | Comments (2) | Add Comment
Post contains 458 words, total size 3 kb.
July 26, 2006
So Much For The "Fasting For Peace" Routine
Mother Sheehan spotted with her
butt parked outside the Iraqi embassy
yesterday: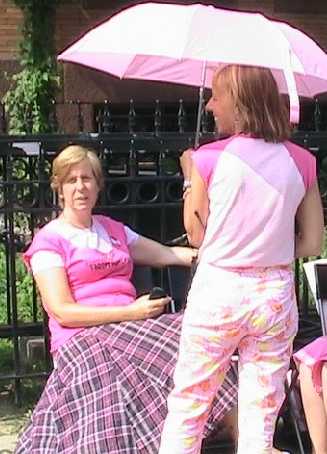 "Diet starts Monday!"
If Cindy the Moonbat keeps this "fasting" up she's going to look like Chris Farley as "Cindy, the Gap Girl".
h/t: Michelle Malkin
Posted by: Gary at 09:30 AM | No Comments | Add Comment
Post contains 54 words, total size 1 kb.
18kb generated in CPU 0.014, elapsed 0.0712 seconds.
113 queries taking 0.0644 seconds, 229 records returned.
Powered by Minx 1.1.6c-pink.