January 04, 2007
Frankenstein's Moonbat
Well, here comes the new Democrat Majority to kick off the new Congress with a press conference, and guess who shows up?
Media whore "Peace Mom" Cindy Sheehan and her merry band of anti-war protesters. (At the link is the video of them shouting down Rahm Emanuel - priceless).
Standing in front of the microphones, Democrat leaders looked very uncomfortable and gave each other sidelong glances as if to say "Um, what the f@#& is she doing here?" Sheehan and company weren't interested in the domestic policies that Dems intend to try and ram through over the next two weeks. Nor, I suspect, are many of the other Leftoids who erroneously claim credit for the Congress' recent change of control.
Finally, Emanuel and the others had to retreat back to the caucus room to hide and wait for the rowdy bunch to go away.
Um, Rahm. I don't think they're going away anytime soon. Hey, you guys helped create this monster, now you're going to have to deal with it.
UPDATE:
Sister Toldjah has the money-quote:
"If your party canÂ't stand up to being confronted by hostile moonbat Â'supportersÂ' like Cindy Sheehan what does that say about your ability (or lack thereof?) to stand up to Al Qaeda?"
UPDATE DEUX:
Thanks to JAron for the inspiration: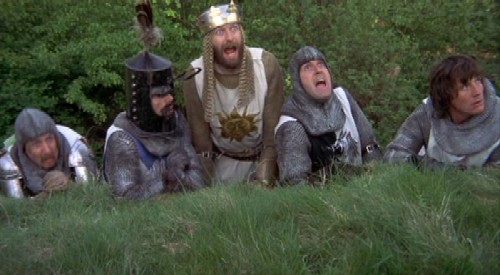 "Holy Christ! It's Mother Sheehan! Run away!!! Run Away!!!
Posted by: Gary at 11:01 AM | Comments (3) | Add Comment
Post contains 227 words, total size 2 kb.
1
Exactly. Let's see how they enjoy dealing with these people!
Posted by: Pam at January 04, 2007 02:07 PM (E1H09)
2
Boy - I was laughing my arse off over this! The poor Dems had nothing to say but... umm.. we have to go off to a meeting now... hahahahahahahaha ... run away run away run away - could have been in a Monty Python sketch afterall.. hahahahhahah still laughing at this one..
Posted by: JAron at January 04, 2007 03:05 PM (nJKAv)
3
Did I hear something about feeding the gators in hopes they would eat you last. Welcome the dhimmi's to supper.
Posted by: Scrapiron at January 04, 2007 07:39 PM (YadGF)
Comments are disabled. Post is locked.
16kb generated in CPU 0.0197, elapsed 0.0627 seconds.
114 queries taking 0.0552 seconds, 230 records returned.
Powered by Minx 1.1.6c-pink.