December 28, 2006
"Shut Up And Sing"? How About Just Go Away?
Can these twits take a hint?
Sixty-one days in release and the Dixie Chicks' documentary has only managed to rake in just a bit over $1 million bones.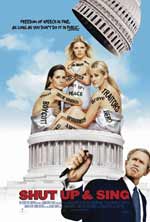 I love that poster with the photo of George W. Bush with that look of annoyance on his face. Yeah, right. Bush probably doesn't even know who they are.
Here's a group who was able to do something few musicians are able to do. They found a unique sound and gained an audience. But they never understood their audience. Then, after alienating said audience, they shrug it off with the attitude that the people who made them rich are just a bunch of ignorant hicks. And they're victims now.
Please.
So now they make a movie that reinforces that fact that not only do they really have nothing to say, but it appears that no one is interested in hearing it. My guess is that it'll ultimately double it's meager gross through DVD sales, which will probably be purchased by a bunch of elitist Bush-hating moonbats who - up until the big "controversy" - wouldn't have given the Chicks the time of day because they were dubbed "country" musicians.
And maybe some Canadians.
And Laura Ingraham, who coined the phrase that the Chicks stole for their title, won't even see a dime from it.
I love how the budget is not disclosed on the gross receipts report. Must be too humiliating to admit.

Posted by: Gary at 03:30 PM | No Comments | Add Comment
Post contains 259 words, total size 2 kb.
Comments are disabled. Post is locked.
14kb generated in CPU 0.0121, elapsed 0.0569 seconds.
112 queries taking 0.0504 seconds, 223 records returned.
Powered by Minx 1.1.6c-pink.