December 26, 2005
Vincent Schiavelli (1948-2005)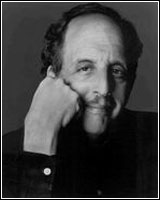 You've seen seen him countless times in many popular films. Most often he was referred to as "that creepy looking guy in the subway scene of 'Ghost'".
Today, Vincent Schiavelli died of lung cancer. Of all the characters he played, my personal favorite was the science teacher with the hot wife in "Fast Times At Ridgemont High", Mr. Vargas. Who can forget the immortal line:
"Listen, I just switched to Sanka this morning. So...have a heart?"
Later in the film he has a memorable scene actually holding a human heart.
He was 57 years old. R.I.P.
Posted by: Gary at 11:50 PM | Comments (4) | Add Comment
Post contains 102 words, total size 1 kb.
December 05, 2005
Ron Silver Coins A Phrase
In an
interview published in the NY Times
, actor Ron Silver was asked about his current beef with the Democrat Party. He said:
"The Democratic Party is becoming the tool of an extreme domestic leftist insurgency led by the Michael Moores and the Cindy Sheehans and other neoreactionary, neoisolationist Americans."
Neoreactionary. I like that. Nowadays, you hear a lot about Neoconservatives (or NeoCons). But this is particularly applicable, because Democrats are the new reactionaries. They're against everything, they say "no" to everything (except defeat) and they fight vigorously to block any kind of reform. In the old days, conservatives were considered to be reactionaries.
Interesting how things change. How would we abbreviate that? NeoWrecks, maybe?
Posted by: Gary at 02:01 PM | No Comments | Add Comment
Post contains 124 words, total size 1 kb.
17kb generated in CPU 0.0146, elapsed 0.0702 seconds.
113 queries taking 0.061 seconds, 228 records returned.
Powered by Minx 1.1.6c-pink.