September 08, 2006
Quote Of The Day
"I wanted to have an In-N-Out Burger."


- Paris Hilton on her recent
DUI arrest.
OK, I'm not even going to touch that one.
Posted by: Gary at 01:48 PM | Comments (1) | Add Comment
Post contains 32 words, total size 1 kb.
September 07, 2006
Captain Kirk Opts Out Of Space Ride Offer
William Shatner was offered a ticket as one of the first passenger's to travel on Virgin Galactic's two-and-a-half hour space flight scheduled for 2008.
His response
was priceless:
"I'm interested in man's march into the unknown but to vomit in space is not my idea of a good time. Neither is a fiery crash with the vomit hovering over me."
And on that note, more Trek fun.
Star Trek "Cribs" at the "Spock Casa":
h/t: Jonah Goldberg
Posted by: Gary at 10:45 AM | Comments (1) | Add Comment
Post contains 91 words, total size 1 kb.
September 06, 2006
Oh, For The Love Of God!
You see this?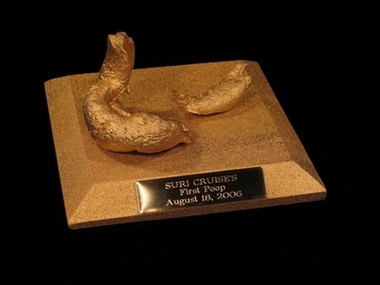 Yes, it's a sculpture of the first turd squeezed out by the spawn of TomKat!
Here's the caption to this A/P gem:
This photo released by the Capla Kesting Gallery in August 2006 shows a sculpture purportedly cast from 19-week old Suri Cruise's first bowel movement. Tom Cruise and Katie Holmes finally put Hollywood at ease by publishing the first photo of their daughter Suri, four months after her birth, in Vanity Fair magazine's October issue.
I don't know about you but this doesn't put
me
at ease. Not in the least! It freaking creeps me out!
Posted by: Gary at 02:21 PM | Comments (5) | Add Comment
Post contains 110 words, total size 1 kb.
September 04, 2006
Crikey.....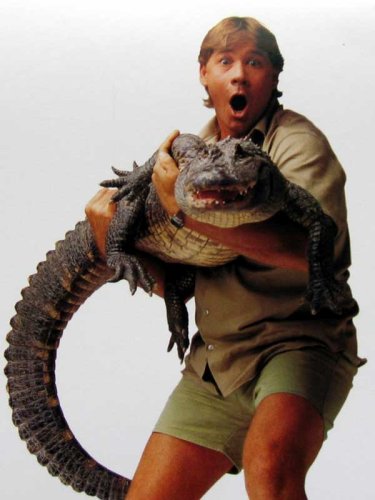 Steve Irwin, naturalist, environmentalist and TV presenter, was born on February 22, 1962. He died on September 4, 2006, aged 44.
STEVE IRWIN, who has died during underwater filming aged 44 after a stingray barb pierced his heart, was known through his documentaries on the cable TV channel Animal Planet to some 500 million people in more than 120 countries. As the exuberant, golden-haired, khaki-wearing and apparently fearless Crocodile Hunter, he got very close to — and even wrestled — numerous apex predators. His unscripted narration was punctuated with "Crikey!" and " Look at this beauty!" Many called him a thrill seeker, but he called himself a wildlife warrior. He was in fact a highly knowledgeable natural historian, whose mission was to educate people by enthusing them. "If you can't get wilds into people's hearts", he said, "then we haven't got a hope in heck of saving them — because people don't want to save something they don't know."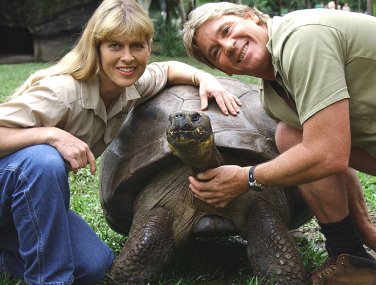 Irwin owned land in Australia, Vanuatu, Fiji and the US. He was a fan of Essendon in the Australian Football League, and loved mixed martial arts competitions. He supported the conservative Liberal Party, and once described the Prime Minister, John Howard, as the "greatest leader in the entire world". Howard returned the favour on hearing of Irwin's death, calling him "the genuine article . . . he took risks, he enjoyed life, but he brought immense joy to millions of people, particularly to children". Among Irwin's legacies is Elseya irwini, a new type of snapping turtle he discovered on the coast of Queensland. He was named Tourism Export of the Year in 2004.
Condolences can be left on Animal Planet's website
Posted by: Skye at 04:14 PM | Comments (4) | Add Comment
Post contains 282 words, total size 2 kb.
24kb generated in CPU 0.0156, elapsed 0.0584 seconds.
116 queries taking 0.0499 seconds, 239 records returned.
Powered by Minx 1.1.6c-pink.