March 16, 2006
Jessica Simpson Does The Right Thing
The head-turning actress was invited to attend a gala fundraiser for the National Republican Congressional Committee but
she, regretfully, declined
.
The blond star of the film "The Dukes of Hazzard" still plans to visit Washington on Thursday to lobby members of Congress on behalf of Operation Smile, a non-profit venture offering free plastic surgery for disadvantaged children overseas with facial deformities.

People close to Simpson said she declined a request to appear that same evening at the gala fund-raiser of the National Republican Congressional Committee -- even after she was offered some private face time with Bush -- because Operation Smile is a non-partisan group.

"It just feels wrong," one Simpson insider told Reuters on Wednesday, adding that the actress keeps her political views private. "She would love to meet the president and talk about Operation Smile ... but she can't do it at a fund-raiser for the Republican Party."
Conservatives like myself are often quick to complain when Left-wing actors use their celebrity to promote the Democrat Party. Let's be consistent here. In my opinion, Simpson used something in this situation that you don't see very often in Hollywood: good judgment.
Promoting a worthy cause like Operation Smile is commendable. And identifying with one party of the other isn't a big deal. But when a celebrity is out their shilling for their party of choice, that's just tacky. We expect entertainment out of these folks, not preaching.
And, honestly, just appearing at a party fundraiser doesn't even come close to the kind of in-your-face political shenanigans that so many Liberal celebrities engage in. But Simpson didn't want to potentially taint the non-partisan nature of the cause she is supporting. Good for her.
Posted by: Gary at 07:30 AM | Comments (2) | Add Comment
Post contains 293 words, total size 2 kb.
March 09, 2006
Sharon Stone Naked In Four Weeks
If that post title doesn't spark your interest, nothing will.
But it's true. Sharon Stone has confirmed that she does in fact appear nude in "Basic Instinct 2" which opens March 31.
Now, this should be interesting because Stone, 48 years young, is not quite the hot siren we saw in the original "Basic Instinct" of fourteen years ago (go watch the Quicktime trailer at Apple.com and see for yourself). I don't mean to say she looks bad or anything but will the prospect of seeing a more...ahem...mature Ms. Stone in her birthday suit be one of the major factors driving the box office numbers? Because from the preview the film looks awful.
Will the film get a candidate for Best Make-up? Or can Sharon still knock our socks off? We shall see.
Posted by: Gary at 02:22 PM | Comments (2) | Add Comment
Post contains 145 words, total size 1 kb.
March 07, 2006
And In The Event Of An Emergency...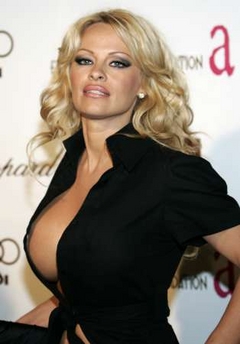 They can be used as a flotation device.
Posted by: Gary at 09:20 AM | Comments (1) | Add Comment
Post contains 22 words, total size 1 kb.
March 06, 2006
Someone Needs To Explain The Concept Of "Spellcheck" To Barbra
Define irony.
Barbra Streisand makes the following list of spelling errors in one moonbat rant (a personal best):
• curruption
• dictatoriship
• crediblity
• Adminstration
• warrented
• desperatly
• preceedings
• ouside
• subpoening
• responsibilty
And the rant in question mocks President Bush as a "C" student.
h/t: Drudge
Posted by: Gary at 12:01 PM | Comments (1) | Add Comment
Post contains 72 words, total size 1 kb.
21kb generated in CPU 0.0225, elapsed 0.0851 seconds.
116 queries taking 0.0713 seconds, 234 records returned.
Powered by Minx 1.1.6c-pink.