December 28, 2006
"Shut Up And Sing"? How About Just Go Away?
Can these twits take a hint?
Sixty-one days in release and the Dixie Chicks' documentary has only managed to rake in just a bit over $1 million bones.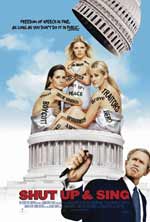 I love that poster with the photo of George W. Bush with that look of annoyance on his face. Yeah, right. Bush probably doesn't even know who they are.
Here's a group who was able to do something few musicians are able to do. They found a unique sound and gained an audience. But they never understood their audience. Then, after alienating said audience, they shrug it off with the attitude that the people who made them rich are just a bunch of ignorant hicks. And they're victims now.
Please.
So now they make a movie that reinforces that fact that not only do they really have nothing to say, but it appears that no one is interested in hearing it. My guess is that it'll ultimately double it's meager gross through DVD sales, which will probably be purchased by a bunch of elitist Bush-hating moonbats who - up until the big "controversy" - wouldn't have given the Chicks the time of day because they were dubbed "country" musicians.
And maybe some Canadians.
And Laura Ingraham, who coined the phrase that the Chicks stole for their title, won't even see a dime from it.
I love how the budget is not disclosed on the gross receipts report. Must be too humiliating to admit.

Posted by: Gary at 03:30 PM | No Comments | Add Comment
Post contains 259 words, total size 2 kb.
December 27, 2006
Chevy Chase On Ford
I almost hasten to categorize this post under "celebrities" because I think in Chase's case it's a bit of a stretch.
In a Reuters story with the headline "30 Years Later, Chevy Chase Calls Ford 'Terrific Guy', they saw fit to include a quote that really has no place in the story:
"He had never been elected period, so I never felt that he deserved to be there to begin with," the actor said about Ford, who died on Tuesday at age 93. "That was just the way I felt then as a young man and as a writer and a liberal."
Now let's look at the utter absurdity of this statement.
Under the 25th Amendment to the U.S. Constitution (that's the main document outlining our Federal government, Chevy), the Vice-President is next in line to succeed a President who dies, becomes incapacitated or resigns from office. Richard Nixon resigned from office. Gerald Ford was Vice-President at the time. You do the math.
The fact that Ford hadn't been elected Vice-President is not the point. His appointment was approved by a majority of the members of Congress (both chambers then controlled by Democrats). What would Chevy have preferred? President Spiro Agnew? He was elected Vice-President, after all. Or maybe Chevy thinks that Ford should have also resigned (not having been elected and all) and allowed the Speaker of the House to assume the Presidency. That would have been Democrat Carl Albert. Of course, Albert had merely been elected Speaker by a majority of the members of the House, as opposed to both chambers. But he was a Democrat, right?
No, Chevy Chase understands the rules of succession just fine. Despite the fact that Ford - a gracious man - was always kind to Chase despite the fun (and the early career boost) he got at the former President's expense, I think there's a little something else behind that particular comment.
What probably steamed Chevy Chase about Ford at the time - and probably still does - is the fact that he pardoned Nixon. I'm sure that "as a young man and as a writer and a liberal", Chase was kicking himself that Nixon wasn't publicly drawn and quartered over Watergate. The irony is that while Nixon was a Republican, he was by no means a Conservative. But what's a silly label when you're part of an evil political party?
Plus, it's hard to pass up an opportunity to undermine the legitimacy of a Republican President. Ain't it, Chevy?
I'm reminded of a scene from "Caddyshack" when Chase's Ty Webb pulls aside Judge Smails (brilliantly played by Ted Knight, a real comic talent) to tell him "You know, Judge. My dad...never liked you."
Somehow I can't help but think that when Chevy Chase muses "We kept in touch and he was just a terrific guy" that he is in fact just kidding himself and that Ford...never really like him. Though Ford was too much of a gentleman to let him know that.
Posted by: Gary at 02:50 PM | Comments (2) | Add Comment
Post contains 507 words, total size 3 kb.
December 06, 2006
Dear.God.Please.NO!
Paris Hilton
wants to have kids
:
Paris Hilton says she wants to have children — soon.

The partying heiress says that hanging around with her new best friend, Britney Spears, and Spears' two tykes has made her want to reproduce.

"It's been my dream to have four babies by 30," the 25-year-old heiress announced, reports Life & Style Weekly. And Hilton thinks she's highly qualified for motherhood, explaining: "I look after animals, so I'd have a lot to give my kids."
GO AWAY! Far away.
Posted by: Gary at 11:36 AM | Comments (2) | Add Comment
Post contains 85 words, total size 1 kb.
22kb generated in CPU 0.0322, elapsed 0.1182 seconds.
114 queries taking 0.1 seconds, 230 records returned.
Powered by Minx 1.1.6c-pink.