September 04, 2006
Crikey.....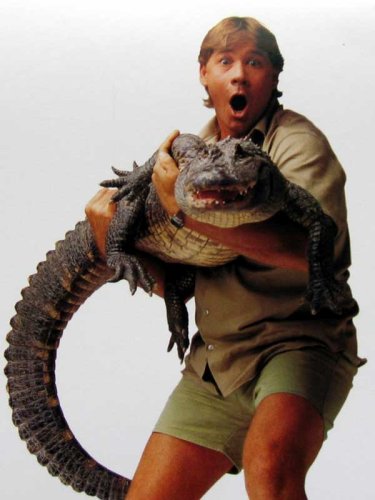 Steve Irwin, naturalist, environmentalist and TV presenter, was born on February 22, 1962. He died on September 4, 2006, aged 44.
STEVE IRWIN, who has died during underwater filming aged 44 after a stingray barb pierced his heart, was known through his documentaries on the cable TV channel Animal Planet to some 500 million people in more than 120 countries. As the exuberant, golden-haired, khaki-wearing and apparently fearless Crocodile Hunter, he got very close to — and even wrestled — numerous apex predators. His unscripted narration was punctuated with "Crikey!" and " Look at this beauty!" Many called him a thrill seeker, but he called himself a wildlife warrior. He was in fact a highly knowledgeable natural historian, whose mission was to educate people by enthusing them. "If you can't get wilds into people's hearts", he said, "then we haven't got a hope in heck of saving them — because people don't want to save something they don't know."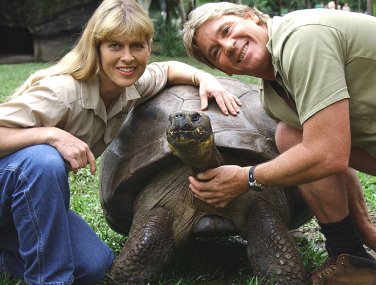 Irwin owned land in Australia, Vanuatu, Fiji and the US. He was a fan of Essendon in the Australian Football League, and loved mixed martial arts competitions. He supported the conservative Liberal Party, and once described the Prime Minister, John Howard, as the "greatest leader in the entire world". Howard returned the favour on hearing of Irwin's death, calling him "the genuine article . . . he took risks, he enjoyed life, but he brought immense joy to millions of people, particularly to children". Among Irwin's legacies is Elseya irwini, a new type of snapping turtle he discovered on the coast of Queensland. He was named Tourism Export of the Year in 2004.
Condolences can be left on Animal Planet's website
Posted by: Skye at 04:14 PM | Comments (4) | Add Comment
Post contains 282 words, total size 2 kb.
Posted by: wordsmith at September 04, 2006 06:59 PM (nrGCx)
Posted by: wordsmith at September 04, 2006 07:03 PM (nrGCx)
Posted by: Skye at September 04, 2006 07:11 PM (Np5ji)
Posted by: Indigo Red at September 05, 2006 11:39 PM (6HsUG)
Comments are disabled. Post is locked.
17kb generated in CPU 0.0279, elapsed 0.1469 seconds.
114 queries taking 0.0746 seconds, 228 records returned.
Powered by Minx 1.1.6c-pink.