June 21, 2006
Angelina Not Above Asking Republicans For Money
Luscious-lipped movie star, Angelina Jolie, says she's willing to even...gasp...
talk to Republicans to raise money
for her pet causes. Now that's what I call a "goodwill ambassador".
In her native America, the TOMB RAIDER star approaches both Republicans and Democrats in her bid to raise awareness of humanitarian crises in countries such as Sudan. Speaking on CNN, Jolie says, "You have to speak to every person individually. Honesty works. Just because you're a Republican doesn't mean you don't care about children."
Gee, isn't that
big
of her? I'm so glad she's out there clearing this up.
Here's a little clue, hon: Look at the chart below.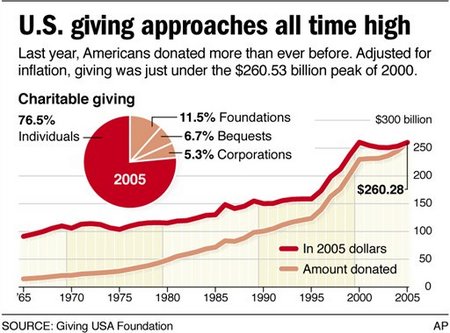 That's right, charitable giving in the U.S. is at its highest level - ever. You think those are all Democrats comprising that number? Think again. Sure there a lot of rich Democrats in there - from Hollywood to the Upper West Side - but generally speaking Democrats are only generous with other people's money; namely, the taxpayer's money.
Posted by: Gary at 09:19 AM | Comments (1) | Add Comment
Post contains 176 words, total size 2 kb.
1
There is nothing to brag about when you are bankrupting our economic future in order to achieve economic windfalls for a small, politically-connected group of opportunists. Guilty consciences and patrionizing handouts do not make up for the irresponsible economic policies of the Right-wing punditry and its political lapdogs. Making people poor because of your politics and then giving them an infinitely small portion of your ill-gotten gains is nothing to be proud of. If I was living high on the hog and passing cripping debts on to my children, I'd be ashamed. But shame, like economic reality, seemingly has passed people like ex-Donkey long ago.
Posted by: Amy at July 23, 2006 12:40 AM (Sitbh)
Comments are disabled. Post is locked.
15kb generated in CPU 0.0133, elapsed 0.0656 seconds.
114 queries taking 0.058 seconds, 225 records returned.
Powered by Minx 1.1.6c-pink.