September 08, 2006
"So Where The Hell Were You, Anyway?"
Yeah, I know for the last month that question has been begging to be answered. I purposely said nothing specific about what I'd be doing on my break if for no other reason to make you wonder.
Well, it's really simple. As I've said, I've been doing this for over a year and a half straight. Those of you who keep a blog (and post frequently) understand that this is a long time in "blog years". So many sites die a slow death within the first six months while others ebb and flow with activity. I have more than a handful of blogs on my blogroll that stop posting for months without a word and then start up again out of nowhere, as if nothing happened.
I also understand that you're less likely to come back unless you can count on fresh material. I didn't want to get stagnant but I really...really...needed a break. So, considering I had planned a week-long vacation anyway and August is normally a slow news month I figured that if I was going to take a break then I'd make it count.
Click "Read More" to read entire post. Fortunately, I had some friends graciously blog-sit. Hugh Hewitt describes a blog as being like a shark - if it stops swimming, it dies. And dammit, I was not about to let my shark die. Er...I mean my site. You know what I mean.
Incidentally, it looks like having guest bloggers actually drove up traffic. Exhibit "A" is my August site stats: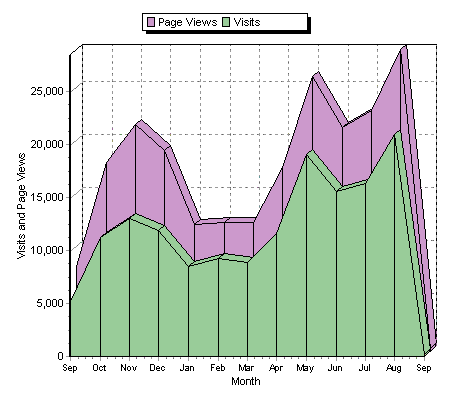 Yowza! How do ya like them apples? Maybe I should take more breaks.
Anyway, here's the deal. From August 12 through the 19th I loaded up the family into the minivan and headed up to the White Mountains region of New Hampshire. Essentially, this is kiddie-park heaven for the under-12 set. It was both joyous and hellacious. More details (and pics) will be forthcoming soon.
The fourth week of August was spent attending to household projects that I'd been putting off for too long. And because of the unseasonably cool weather we had, I decided to get a jump on clearing the yard of summer stuff (including the 10-foot wide EZ setup pool) and putting it all away for the season.
Once the last week of August hit, I was busy getting the little ones ready for school - which started on the 29th. It's a much bigger deal this year because each of them was transitioning to a new school. Each of my sons has autistic-spectrum related issues so believe me when I say that transitions for them are not fun. Fortunately, things went a bit smoother than I had expected.
And then, there was Labor Day weekend.
I wasn't totally disconnected to the net, however, as I also took the time to start maintaining my old posts on the Tolkien Geek site.
The time flew by. I had made a vow to myself that I would hardly even read the site while I was gone, but that proved impossible. But I was pleased at the work my guests did. I hope you were too.
Posted by: Gary at 02:30 PM | No Comments | Add Comment
Post contains 536 words, total size 3 kb.
Comments are disabled. Post is locked.
16kb generated in CPU 0.0372, elapsed 0.0818 seconds.
112 queries taking 0.0764 seconds, 229 records returned.
Powered by Minx 1.1.6c-pink.