February 28, 2006
Seven Songs I'm Listening To Lately
Okay, so I got tagged with this by
Pam at Blogmeister USA
. What the hell. By strange coincidence I've been searching through the iTunes store lately looking for old songs that I always liked. I don't have an iPod but I burn these disparate selections onto CD's and call them "mix" collections. The mix I just did has a lot of interesting tunes but I picked what I think are my favorite seven that I'm currently enjoying - nothing especially out of the ordinary:
Margaritaville (Jimmy Buffett) - One of those songs I've always liked but have never owned. It's a great tune to play when you're just hanging out, having nip of tequila - ideally, a margarita. It also always helps me get through the winter time. Play it on a warm day in February and you can almost feel Spring coming. There's a line that goes, "blew out my flip-flops, stepped on a pop-top". Nowadays anyone under the age of thirty probably wouldn't even know what a pop-top is - that little metal thingy you pulled off to open a can of beer or soda and just tossed on the ground. Well, when the Mrs. was a youngin' she though the line was "stepped on a pop-tart". And she never thought to ask "why?"
Born To Fly (Sara Evans): This is a hit from Sara's album of the same name, not her current release which is "Real Fine Place". I just really find this song uplifting.

"But how do you wait for heaven,
And who has that much time?
And how do you keep your feet on the ground,
When you know that you were born,
You were born to fly!"
I also have to admit to having a bit of a crush on Sara Evans.
Listen To Your Heart (Roxette): Strangely enough, I wasn't all that big on this song when if first came out in 1989. Recently, I heard a slower acoustic version on the radio. I really listened to it and I came away thinking, "wow, that's a really good song". So I downloaded the original.
Just The Way It Is, Baby (The Rembrandts): I never felt like shelling out for the whole album. Thanks to iTunes, I don't have to anymore. These guys are more famous for their theme song from the TV show "Friends", but that got damn annoying after a while. This one on the other hand is a real toe-tapper.
No Myth (Michael Penn): The hard strumming of the acoustic guitar bangs out this catchy tune and I can't stop listening to it but the lyrics make no sense to me:
We said goodbye before hello,
my secrets she will never know,
and if I dig a hole to China
I'll catch the first junk to Soho.
What if I were Romeo in black jeans,
What if I was Heathcliff, it's no myth.
Maybe she's just looking for,
someone to dance with.
I get the Heathcliff reference but the rest is like...whatever. It's still fun to sing it. And, yes, Michael Penn is Sean Penn's brother.
Theme From "The Greatest American Hero" (Believe It Or Not) (Joey Scarbury): C'mon, who doesn't love this one? Who can't help but sing along? The funniest use of this song was in the TV show "Seinfeld" when George Costanza adapted it to make a message on his answering machine: "Believe it or not, George isn't at home..." I always think of that episode whenever I hear this one.
Let My Love Open The Door (Pete Townshend): I used to be a huge Who fan and I like a lot of Townshend's solo work. Then of course he got all weirded out. But this is a very upbeat, bouncy song that was also used for the closing credits of the movie "Look Who's Talking". Makes me think of that little kid, Mikey. Also, my youngest goes nuts when I play this one. Must be very appealing to the little ones. Pretty ironic when you consider what he got nailed for downloading.
Well, that's it. Now, I'm tagging:
GroovyVic
The Real Ugly American
and
The Wordsmith
They'll be hearing from me soon.
Posted by: Gary at 04:55 PM | Comments (5) | Add Comment
Post contains 704 words, total size 5 kb.
February 24, 2006
Hoop Dreams Come True For Autistic Teen
High School Senior Jason McElwain of Rochester, NY plays in the final four minutes of his team's last home game.
What he does
will make you cheer.
Jason has autism.
The story has special meaning for me because autism is a part of my family's life. Be sure to watch the video that goes with the story. Special thanks to BullDogPundit for linking this.
Posted by: Gary at 02:01 PM | Comments (2) | Add Comment
Post contains 78 words, total size 1 kb.
February 20, 2006
Happy Presidents Day
Actually, happy Lincoln's birthday (late) and happy Washington's birthday (early). The whole idea of creating one municipal holiday to honor not just these two greats but all 42 men who've held the office - even the lousy ones like Carter, Buchanan and Harding - has always bugged me.
Anyway, I have today off from work (and didn't even realize it until the end of last week) but I'll be working nonetheless. I have a "honey-do" list a mile long and, believe me, I've got my work cut out for me. The rest of the crew is off on a day trip and my success or failure will be judged exclusively on how "neat, tidy and organized" the house is on a surface level only (i.e., if it looks clean, it is clean). No "deep" cleaning exercises today. It's all quantity over quality. And no questions asked.
Over the years this kind of domestic whitewash has become my specialty, going back to the days before the kids when the Mrs. had to work every third Saturday.
Today's agenda is daunting, but I'm up for it. And may even have time for the occasional post.
Posted by: Gary at 09:52 AM | Comments (1) | Add Comment
Post contains 199 words, total size 1 kb.
February 15, 2006
Share Time
Today I attended a funeral where a poem was read that I thought was pretty inspirational.
It's called "The Dash" by Linda Ellis and it refers to the dash between a person's birth date and death date. It was written in 1996 and, since it's copyrighted, I'll simply link to it rather than reproduce it. I'm sure I could get permission but I'm pretty tired right now and I wanted to post this ASAP.
Read "The Dash".
Linda Ellis' website is here and it features a very nice flash movie version of the poem.
Posted by: Gary at 07:51 PM | No Comments | Add Comment
Post contains 98 words, total size 1 kb.
Funerals Are Not Fun
One of my wife's uncles passed away suddenly last week and the services are this morning.
So posting will be light today, to say the least.
Posted by: Gary at 06:30 AM | No Comments | Add Comment
Post contains 34 words, total size 1 kb.
February 13, 2006
Basic Men's Room Etiquette
Why do some men feel it's necessary to walk up to a urinal and pull their pants and underwear down just to take a pee?
Dudes, pants have these things called zippers. Their purpose is allow access for ol' one-eye to the urinal. Granted it's a little easier if you wear boxers but if you can't figure out how to move aside the flaps on a pair of briefs to let your meat-puppet see the light of day maybe it's time to change your style of underwear.
There is nothing more annoying in a men's room (outside of stupid conversation) than to have some guy walk up beside you and go through the trouble of unbuckling his belt, unsnapping his snap (or unbuttoning his button), unzipping his fly, untucking his shirt and yanking the whole works down to his knees just to take a whiz! Is he afraid of actually touching it? Maybe he figures then he won't have to bother washing his hands. But that's a whole other topic.
C'mon fellas. You've had the equipment for decades now. Learn how be more efficient with it, will ya? Sheesh!
Posted by: Gary at 11:30 AM | Comments (7) | Add Comment
Post contains 197 words, total size 1 kb.
February 12, 2006
The Blizzard of '06
Well, here's a look at how badly we got blasted: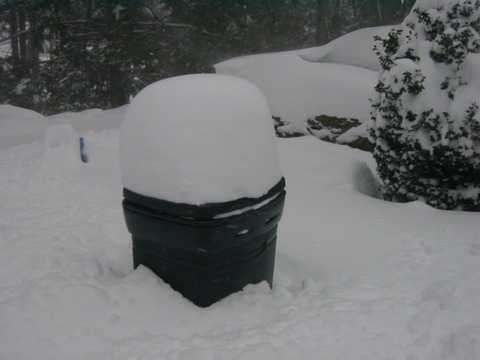 This is my garbage can to give you an idea of accumulation. I reckon that's at least 18 inches on top, probably a little more.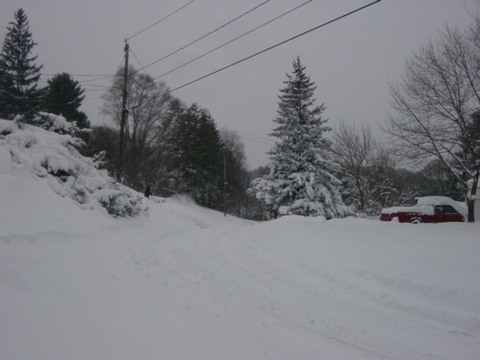 Here's a view of our street.
Went out to shovel a little (the stuff that the plow guy doesn't get) and although it's very fluffy, I dealt with a LOT of it. I just thank God we didn't lose power. As soon as my legs thaw out I'm considering getting a fire going in the fireplace. Then again, I might just fall asleep right here. I can smell sausage and peppers cooking. Mmmmmm.
Posted by: Gary at 05:31 PM | Comments (1) | Add Comment
Post contains 116 words, total size 1 kb.
Old Man Winter Kicks Me In The Balls
You see this: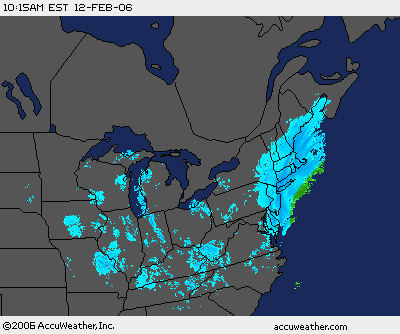 If you look closely, in the middle there's this little blue strip just a big darker than the surrounding blue - right through Connecticut. Well, apparently I'm located in the worst part of that little blue band. And the "heavy" stuff isn't even supposed to come until after noontime.
Reports of power outages in the area have me concerned. I've got three kids ages nine, five and two. If I lose TV, I'm screwed. I better charge up that portable DVD player!
Posted by: Gary at 11:47 AM | Comments (2) | Add Comment
Post contains 101 words, total size 1 kb.
38kb generated in CPU 0.036, elapsed 0.1144 seconds.
118 queries taking 0.0964 seconds, 259 records returned.
Powered by Minx 1.1.6c-pink.