April 02, 2005
Autism Awareness...
I've added this picture link to my right sidebar. It will bring you to a good resource - the
Autism Society of America
. I have a personal connection to this issue. All three of my sons have been diagnosed with Autistic Spectrum disorders. My oldest son, Ryan, has Asperger's Syndrome, or High-Functioning Autism. My middle son, Justin, has been diagnosed with PDD-NOS (Pervasive Developmental Disorder-Not Otherwise Specified) and my youngest, Kevin, has what is considered "classic" Autism. I highly recommend that any parent of young children
learn all they can
about Autism and Autistic Spectrum Disorders (ASDs).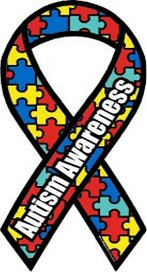 Medical and psychiatry experts are learning more and more with research every day. And many children who have been misdiagnosed with other conditions (ADHD, OCD, etc.) are now getting the help they need as we come to better understand Autism and its signs and symptoms.
Early detection is the key because intervention at a young age can make a tremendous difference in an affected child's life. If you have a child between 18 and 36 months who is not yet speaking, has difficulty with interaction, rarely makes eye contact or even just seems to often be "in another world", I URGE you to educate yourself because it's better to rule it out than overlook it. You know your children best and if something just doesn't seem right you need to go with your instincts and talk to your pediatrician.
Another great resource is Autism Speaks.org, an organization dedicated to unlocking the mysteries of Autism and developing new treatments.
Having a child on the Autistic spectrum can make a parent feel very isolated and frustrated. If you would like to send me an email, I'd be more than happy to share any insights or experiences that I may have on the subject or even lend a sympathetic ear for anyone that may be struggling with this increasingly common situation.
UPDATE (12/8/06):
"Combating Autism Act of 2006" becomes law. Read more here.
Posted by: Gary at 11:38 AM | No Comments | Add Comment
Post contains 331 words, total size 3 kb.
15kb generated in CPU 0.0131, elapsed 0.0632 seconds.
111 queries taking 0.0563 seconds, 227 records returned.
Powered by Minx 1.1.6c-pink.