December 11, 2005
Extreme Makeover: Christmas Tree Edition (Redux)
Last Saturday,
I started the tree trimming process
. But due to a nasty illness and the demands of life during the week it didn't get finished.
Well, I'm happy to say, it's DONE!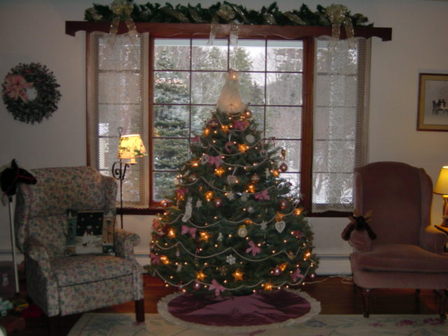 Of course, the colors scheme is all the wife's doing. And the kids are young enough where it's not yet overburdened with homemade ceramic ornaments.
Now that we're done, I'm getting ready to relax and plop myself in front of the TV to watch the Giants game. As I'm on my own for dinner, I took the liberty of assembling this lovely three course meal: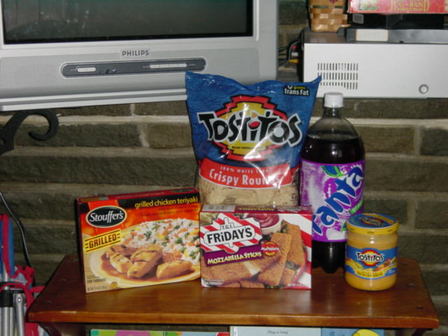 No beer yet. I'm not 100% with this dang cold. But my intestinal tract is going to take a beating nonetheless.
Posted by: Gary at 03:30 PM | Comments (2) | Add Comment
Post contains 131 words, total size 1 kb.
December 05, 2005
Extreme Makeover - Christmas Tree Edition (Update)
Well, the final stage of the Christmas Tree Makeover is temporarily on hold. My nine-year old and his ten-year old cousin got a little overzealous in their desire to put the ornaments on.
Frankly, it's a God-awful mess right now. And those #%$@*&! beads that I spent so much time on need some serious adjusting. So I have to wait until the wife rearranges the balls, er, the ornaments before I would even consider taking another photo.
Still sick, BTW.
Posted by: Gary at 12:55 PM | No Comments | Add Comment
Post contains 94 words, total size 1 kb.
December 03, 2005
Extreme Makeover - Christmas Tree Edition (Part One)
Well, we got the tree last weekend, but I wanted make damn sure the thing was still fully alive before I put anything on it. So by mid-week, the tree was taking water and I made preparations to give it the big makeover this weekend.
Now a Christmas Tree is like a woman. Every one is different and you really have to evaluate them carefully before you decide how you're going to approach them. Now take this one: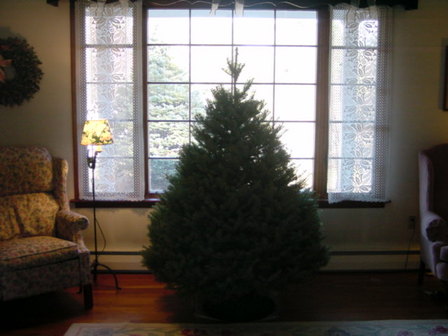 She's short, squat, full in the front and round in the back. Not unlike a young lady I once dated. Hopefully the tree won't be as difficult to handle.
But by just looking it over, I figure I'm going to use a little less lighting than normal. So it's time to rig the lights. And damn me, if every strand doesn't have a couple of bulbs out. Of course, I didn't bother to pick up any more strands or replacement bulbs so I'll have to canabalize one strand for replacements. Luckily for me I'll have one to spare with this baby.
OK, so the lights are up.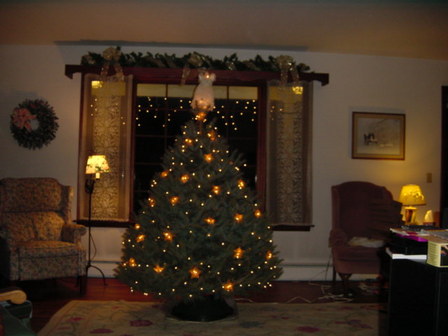 Wait, what are those nasty orange blobs on the tree? Well, they're these ugly wicker stars with bulbs in them. The wife figured I didn't have enough work to do stringing lights together. So she stopped by the Christmas Tree Shop (and no, I don't just love a bargain) a couple years back and picked these up. Actually, they're more yellow but my crappy digital camera doesn't pick up that nuance.
Now what? Well, step two is putting on these pearly-pink, gay-ass strings of beads. I really hate these because you're supposed to "drape" them over the tree so they look "natural". What exactly does that mean? I don't know, but my wife tells me when it looks right. She's not home right now, so this is what will be waiting for her when she gets home: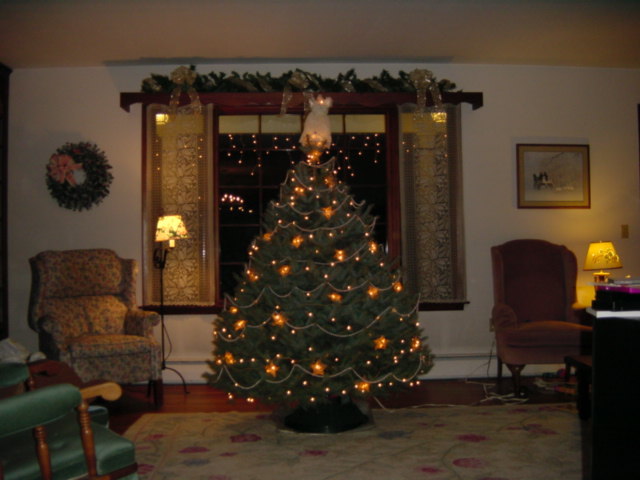 I once suggested to the wife another use for the beads, which was sounding rejected. But, hey, you don't get what you don't ask for.
Now that this much is done, it's her party. She puts on the rest of the stuff. So until tomorrow, you'll just have to wait to see what our little tree looks like with all the trimmings. This year my nine-year old wants to be more involved. Should be interesting.
Posted by: Gary at 06:00 PM | Comments (6) | Add Comment
Post contains 413 words, total size 3 kb.
23kb generated in CPU 0.0166, elapsed 0.0658 seconds.
114 queries taking 0.0564 seconds, 240 records returned.
Powered by Minx 1.1.6c-pink.