May 24, 2006
Moon River...
Will someone please explain to me exactly
when
the age threshold for a prostate exam was lowered to 35?
Needless to say I was quite taken by surprise at my physical this morning. And here I was thinking that the worst I'd have to endure was the ceremonial juggling of the cojones. Sheesh.
Posted by: Gary at 11:48 AM | Comments (7) | Add Comment
Post contains 57 words, total size 1 kb.
May 18, 2006
Happy Birthday To Me
39 years young today. Yikes!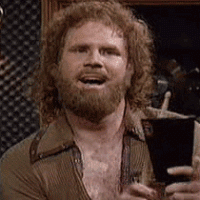 I GOTTA HAVE MORE COWBELL!!!!!
Posted by: Gary at 07:30 AM | Comments (4) | Add Comment
Post contains 18 words, total size 1 kb.
May 04, 2006
Expanding My Horizons
Picked up a copy of this book at lunch today:

Why, you ask?
Well, I've never been much of a wine drinker. I'm more of a beer guy with the occasional tequila or vodka cocktail. The reason I've never really been into wine is simply my lack of familiarity with good wine. And I'm not ashamed to admit that I'm more used to the mass-produced crappy variety that's so full of sulfites it makes my head feel like it's going to implode.
I did NOT buy this book because I want to be a wine expert or try to pass myself off as one. I DID buy it because life is all about learning and lately I've come to believe that one thing in life that it's useful to have is a basic understanding and appreciation of what a decent wine should taste like. I don't know. I think there are just certain things that are meant to be enjoyed. Maybe it has something to do with recently seeing the movie "Sideways" or maybe I'm just tired of being clueless in certain situations that call for ordering wines, serving wines and picking out a wine to bring to someone's house.
I think the potential benefit is at least worth such a minimal investment of time and money.
Posted by: Gary at 01:40 PM | No Comments | Add Comment
Post contains 223 words, total size 2 kb.
May 02, 2006
Rollover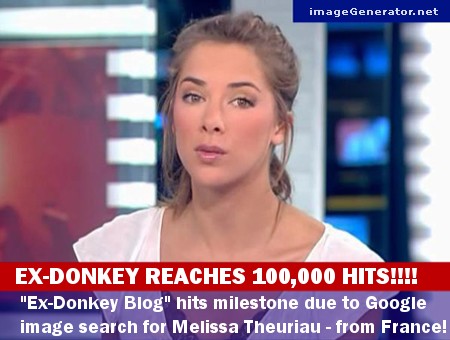 A couple of minutes ago, this blog rolled over into the six digit column in hits. And talk about irony, hit number 100,000 originated from France. I don't point this out as some kind of victory dance. I understand all too well what the driver is behind this number. A huge portion of those hits have come from weirdos in Europe and the Middle East doing Google image searches for Diane Lane, Melissa Theuriau and Elisabeth Shue. And, hey, I'm not above engaging in the occasional google chumming.
The fact is that I don't really have any particular traffic or exposure expectations, although I'm continually surprised at how fast those numbers have risen since February 2005. But what's always been the most important measurement to me is whether or not I enjoy doing this. I don't expect to be the driving force behind exposing some major screw up by the MSM. I don't expect to offer some "must read" post that everyone forwards to their friends and family around the country. And, frankly, I don't really care all that much whether or not I change any minds of those who disagree with me.
This site is, has always been, and will always be just a repository for my random thoughts and musings about things political, cultural and (at times) personal. Some of you may have noticed that the posting frequency has dropped off a bit lately. There are many reasons for this but the overriding one is that lately I've come down with a mild case of "idontgiveacrap-itis".
Now usually at this point, a long-time blogger will say "so I'm going to take a break" or "this blog is on hiatus". It happens all too frequently. Some bloggers even hit the proverbial wall and drop out altogether. That's not where I'm going with this, however. I just wanted to point out that, as with any form of writing, the juice ebbs and flows. Right now I'm kind of ebbing but at any time I could start flowing again.
I'd like to take the opportunity to thank all of those folks who for some strange reason keep coming back to see what new nonsense I've posted. More importantly, I want to offer huge cyber hugs 'n kisses to those other bloggers who've steered traffic my way via links and trackbacks. It reminds me to try and be on my best behavior. :wink:
Posted by: Gary at 09:30 AM | Comments (5) | Add Comment
Post contains 403 words, total size 2 kb.
25kb generated in CPU 0.0159, elapsed 0.0636 seconds.
115 queries taking 0.0542 seconds, 250 records returned.
Powered by Minx 1.1.6c-pink.