June 18, 2006
Happy Father's Day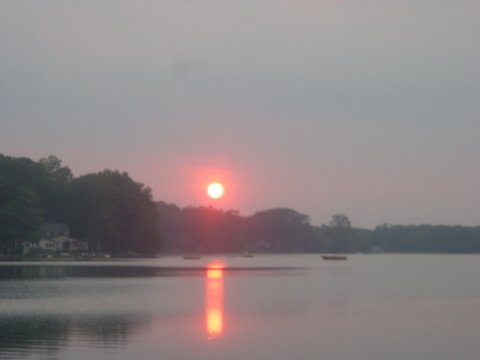 Sunset at the lake.
Posted by: Gary at 07:00 PM | No Comments | Add Comment
Post contains 10 words, total size 1 kb.
June 15, 2006
The Trials And Tribulations Of NetFlix
OK, so
I've slammed NetFlix in the past
because of their "throttling" shenanigans. But since I finished with the old seasons of "24", things started to get a little better. Sure, they still pulled their little tricks now and again but being as I mostly watch movies on the weekend (with the occasional one just for me during the week), it wasn't that big a deal.
I thought I had seen everything. But I hadn't. Check this out. I had "Chicken Little" (for my son and his cousin to watch on Saturday) and "Stewie Griffin: The Untold Story" shipping on Tuesday for delivery yesterday. I go to the mailbox yesterday when I get home from work and there's Stewie but no Chicken Little. Hmmm. Ok, so I'll get it Thursday, right? Friday, the latest.
Not only did I NOT get "Chicken Little" but when I logged on this morning, the main screen asked me to "rate my return" for that movie. They recorded it as being sent out and returned within two days - which is physically impossible under their system!!!! The fastest turnaround can only ever be four days (e.g., sent Tuesday, received by me Wednesday, returned Thursday and received by NetFlix on Friday).
Now not only do I have to blow one of my rentals on a movie that I never got, I have to throw "Chicken Little" back into my queue and hope and pray that the damn thing ships today and delivers tomorrow so I can take it with me where I'm going this weekend. Otherwise, the kid gets screwed.
This is by far the worst thing NetFlix has ever done. Ok, taking a week to send the final disc of "24", season three, was the worst. But this is almost a tie by virture of the fact that 1) clearly the movie didn't ship when they said it did which is a complete and total LIE and 2) it potentially screws up my weekend plans.
BASTARDS!!!!!!
UPDATE: 12:00pm
This is bizarre. I never did "rate" the Chicken Little DVD (why should I? I never got it). I did however put it back in my queue - at the top to replace the one they say was returned.
I checked back just now and Chicken Little WASN'T in my queue. I don't mean it wasn't at the TOP of my queue. I mean it was no longer IN the queue. WTF?
I put it back in. The status of my next shipment, fortunately or unfortunately, still said "we expect to ship your next selection today". Something wasn't right, however.
I went back. I "rated" the Chicken Little DVD. I went out of the website. Then I went back in. Chicken Little was now in my "at home" list labeled "shipping today" and also listed at the top of my queue. Very freaking weird. Was rating the DVD acting as a "trigger" to release my next movie from the queue?
So now I have taken the second Chicken Little out of my queue. It should ship today and arrive tomorrow. So help me, if I go back this afternoon and it says "shipping Friday" I'll lose my mind.
Posted by: Gary at 09:00 AM | Comments (2) | Add Comment
Post contains 543 words, total size 3 kb.
June 06, 2006
Where's Gary?
Hiding from the Apocalypse! Don't you people have calendars?
Posted by: Gary at 10:54 AM | No Comments | Add Comment
Post contains 13 words, total size 1 kb.
19kb generated in CPU 0.0126, elapsed 0.0678 seconds.
113 queries taking 0.0597 seconds, 234 records returned.
Powered by Minx 1.1.6c-pink.