October 23, 2005
Has It Been 20 Years Already?
Wow. Last night I went to my 20-year high school reunion. Not quite the turnout I was expecting, but a decent showing nonetheless. I was stuck by one particular observation. It seemed that of all my former classmates that I met again, they either looked pretty much the way I remembered them or looked completely different.
Some, had undergone a bit of a transformation because of...ahem..."hard livin'". One woman I had known pretty well back in school looked like she hadn't aged a day while another reminded me of one of my great aunts. Strange. It's also funny how after twenty years you can find so much more in common with some one than you did when you were younger (marriage, kids, job, mortgages, etc.)
But the most interesting part of the evening is below the fold... more...
Posted by: Gary at 02:56 PM | Comments (3) | Add Comment
Post contains 422 words, total size 2 kb.
October 16, 2005
Won't You Take Me To...Funkytown...Pumpkintown!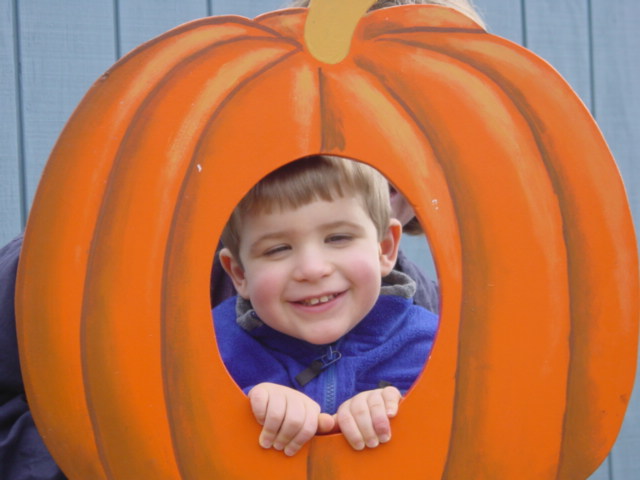 Headed East today and stopped in East Hampton, CT at a local flower and garden shop that becomes "Pumpkintown" every October. Two-year old Kevin (my little pumpkin) had a ball with his brothers, Ryan and Justin. Unfortunately he's squinting in this shot, but it was the best one I could get.
When we got home, I was unloading the car and smelled a fireplace roaring somewhere nearby, the wind blowing through the trees on a cool fall evening. The full moon (a harvest moon) was shining it's pale light down into my backyard. Even the Giants game can't get me down. I love this time of year.
Posted by: Gary at 10:51 PM | Comments (1) | Add Comment
Post contains 117 words, total size 1 kb.
October 01, 2005
Back Home!
Well, made it back OK. Had a great trip. Got some interesting photos of Southern Vermont. Man, it felt like this little corner of New England has been invaded by moonbats.
More tomorrow, when I can make a proper report.
Posted by: Gary at 07:37 PM | No Comments | Add Comment
Post contains 44 words, total size 1 kb.
18kb generated in CPU 0.0149, elapsed 0.0639 seconds.
114 queries taking 0.0558 seconds, 236 records returned.
Powered by Minx 1.1.6c-pink.