November 29, 2005
The "Bad Girl" Blog
Or "Adventures In Google Chumming".
It seems like forever ago that - just for shits 'n giggles - I posted this pic, which came from some Hollywood premiere: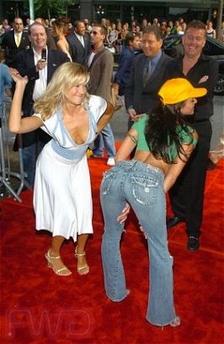 Guess what I named the .jpg file? "Bad Girl". Makes sense, huh?
Well, since then it's THE number one Google Image search hit for "bad girl". Of course, wouldn't you know it brings them to by old site on BlogSnot.
And the most interesting part is that the vast majority of the searches come from Europe and the Middle East. Those dirty dogs!
And thanks to Steve the Llama Butcher for enlightening me to the term "google chumming". Of course, he is the google chum king.
Posted by: Gary at 03:20 PM | Comments (4) | Add Comment
Post contains 122 words, total size 1 kb.
Posted by: GroovyVic at November 29, 2005 07:52 PM (Jf+ho)
Posted by: Steve the LLamabutcher at November 30, 2005 02:32 PM (c5Jw4)
Posted by: V the K at November 30, 2005 02:52 PM (q/kmn)
Posted by: Gary at November 30, 2005 04:36 PM (QoxB+)
Comments are disabled. Post is locked.
16kb generated in CPU 0.0287, elapsed 0.1495 seconds.
115 queries taking 0.1325 seconds, 241 records returned.
Powered by Minx 1.1.6c-pink.