November 25, 2005
"Qigong" Jin's Powerful Light Saber
I'm halfway between impressed and appalled at this one. Here's a guy who is Master of Qigong, an "ancient Chinese art of moving and breathing to increase energy". Specifically, Master Tu Jin-Sheng is best known for his Iron Crotch branch of Qigong.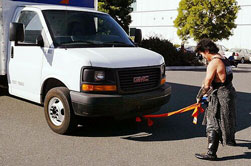 The guy pulled a pick-up truck with his johnson.
A documentary film director and producer from London were on hand to shoot the jaw-dropping feat for a three-part series called Penis Envy, scheduled to air next year on Channel 4 in the United Kingdom. Footage from the truck pull will be used for the series piece on building the perfect penis.

Hes very special. Powerful. Superman, said an awe-struck Shawnee Wang, who studies Qigong with Jin-Sheng at his gym in Cupertino. I just came here to watch my master perform.

Jin-Sheng, the grandmaster of Iron Crotch, a branch of Qigong also known as 99 Qigong, is said to have 60,000 followers worldwide. Its practitioners are known to lift hundreds of pounds with their genitals to increase energy and sexual performance. One of Jin-Shengs most famous students, a 70-year-old man in Taiwan, is said to have lifted more than 660 pounds with his penis. The grandmaster teaches Iron Crotch and Qigong in Fremont and Cupertino.

Jin-Shengs performance drew a hearty applause (and only a few gasps) from the sparse crowd. He wrapped a piece of fabric around his waist to conceal his genitals from the crowd, but in the heat of the second truck pull, when he tied the cloth around his testicles only, it was pushed aside to reveal a ball of flesh that looked ready to burst.

Jin-Sheng wiped the sweat from his brow after the show and said through an interpreter that he felt comfortable and warm.

When asked if he was in any pain, he laughed.
And how does this fellow get himself "warmed up" for such an exercise? He has one of his students give him a swift kick to the nuts.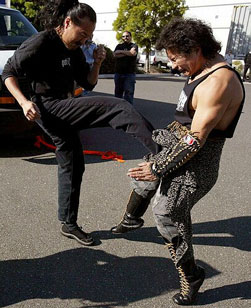 I'm speechless. My five-year old accidently whacks me in the old bait and tackle and I cry like a baby.
Posted by: Gary at 07:41 AM | Comments (2) | Add Comment
Post contains 357 words, total size 3 kb.
Posted by: Wordsmith at November 26, 2005 02:13 AM (nrGCx)
2
Wow! I'm impressed when my husband does the human towel rack trick. LOL
Posted by: Tammy at November 30, 2005 10:17 AM (V4MrC)
Comments are disabled. Post is locked.
16kb generated in CPU 0.0417, elapsed 0.14 seconds.
115 queries taking 0.1194 seconds, 239 records returned.
Powered by Minx 1.1.6c-pink.