June 07, 2006
"Put Neidermeyer On It. He's A Sneaky Little Shit Just Like You."
The National College Republicans came up with an idea to comment on the whole "global warming" scare and
have a little fun in the process
.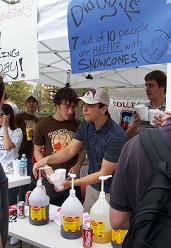 From their website:
"Freeze out cataclysmic environmental scare tactics with a little humor. The Oklahoma University College Republicans gave out free snow cones to students for an event they called "Global Cooling Day."

Stage an event like this one to grab the attention of your campus and raise awareness on the real facts of the global warming phenomenon. Engage with students and debunk some of the myths and cool the hyperbole surrounding the issue.

OU CRs simultaneously used the event to promote their first meeting, sign-up members, and sell CR shirts. A tent and tables were set up at the busiest spot on campus, and OU CRs gave away nearly 1,000 snow cones each day.

Prior to your "Global Cooling Day" event, arm your College Republican chapter with solid talking points on the issue, and then kick-back and enjoy the sun. The facts are on your side...

...Consider staging a similar event on your campus--but make it a beach party instead. Kiddie pools, sand, bikinis--you get the idea."
Of course, this raised the hackles of the good folks at the Democratic National Committee who responded to the event
with a press release
:
"As more and more experts continue to confirm the harmful effects of global warming, the College Republican National Committee is urging its membership to mock the threat by throwing beach parties this summer. The College Republicans actions demonstrate the misplaced priorities and short-sightedness of the future of the Republican Party, according to the Democratic National Committee. As College Democrats continue to fight for issues that young Americans care about like an affordable college education, Republicans continue to push their out of touch agenda.

"The College Republicans' beach parties mocking global warming are just another example of the misplaced priorities and short- sightedness of the Republican Party," said College Democrats of America President Grant Woodard. "The College Republicans' ignorance toward the seriousness of global warming and climate change shows a Party more focused on partying than talking seriously about the issues facing young people across America. While College Republicans party on this summer, College Democrats will be knocking on doors, working to get Democrats elected nationwide. With young leadership like this, Republicans should prepare to get burned in the upcoming elections."
If there is a better example of how young Republicans and Democrats can be compared to the opposing fraternities in
"Animal House"
- the fun-loving, easy-going, irreverant Deltas and the stodgy, tight-assed, politically-correct Omegas - I'm not aware of it.
Who do you think will have the edge in influencing the youth vote? Hmmm.
Posted by: Gary at 09:05 AM | Comments (4) | Add Comment
Post contains 471 words, total size 3 kb.
Posted by: ctkeith at June 07, 2006 12:16 PM (D7u00)
Posted by: Gary at June 07, 2006 12:59 PM (PLHs9)
Posted by: ctkeith at June 07, 2006 05:05 PM (D7u00)
Posted by: Dan Patterson at June 07, 2006 06:21 PM (yb4Rw)
Comments are disabled. Post is locked.
19kb generated in CPU 0.0131, elapsed 0.1025 seconds.
114 queries taking 0.0948 seconds, 233 records returned.
Powered by Minx 1.1.6c-pink.