May 11, 2006
Let It Snow, Let It Snow, Let It Snow!!!!
Tony
Snow, that is.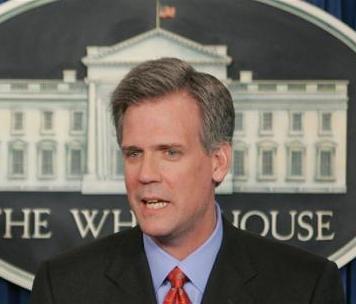 Before he even takes the podium for the first time as official White House Press Secretary, Tony Snow shot off a round of emails to his prey the WH Press Pool criticizing the major networks for the way they've distorted their coverage of the President.
"The New York Times continues to ignore America's economic progress," blared the headline of an e-mail sent to reporters Wednesday by the White House press office.

Minutes earlier, another e-mail blasted CBS News, which has had an unusually rocky relationship with the White House since 2004, when CBS aired what turned out to be forged documents in a failed effort to question the presidentÂ's military service.

"CBS News misleadingly reports that only 8 million seniors have signed up for Medicare prescription drug coverage," Wednesday's missive said. "But 37 million seniors have coverage." On Tuesday, the White House railed against "USA Today's misleading Medicare story."

"USA Today claims 'poor, often minority' Medicare beneficiaries are not enrolling in Medicare drug coverage," the press office complained. "But by April, more than 70 percent of eligible African Americans, more than 70 percent of eligible Hispanics, and more than 75 percent of eligible Asian Americans are enrolled or have retiree drug coverage."
Now
that's
more like it!
The Drive-By Media are on notice: Like the infamous Howard Beale in the movie, "Network", Snow (as the voice of the President) is mad as hell, and he's not going to take it anymore!
I absolutely cannot wait for Snow's first press conference. This is going to be soooooooo good. Heh.
Posted by: Gary at 10:45 AM | Comments (1) | Add Comment
Post contains 278 words, total size 2 kb.
May 05, 2006
16kb generated in CPU 0.0386, elapsed 0.1382 seconds.
113 queries taking 0.1123 seconds, 230 records returned.
Powered by Minx 1.1.6c-pink.