October 06, 2006
Moving On
When Matt Drudge stops posting headlines in a red 36-point font, you can pretty much guess that a story is losing its juice.
No, it's not completely over, yet. But the frenzy that is Foleymania seems to have worn out even the MSM. What the longer-term impact will be on Nov. 7th is anyone's guess. But I have a feeling it won't be as significant as most people thought it would be back at the beginning of the week.
The key here is that the GOP leadership in the House has closed ranks behind Hastert. If they hadn't, then the new story sucking all of the media oxygen would have been the turmoil they were in - the finger-pointing, the second-guessing, the back-stabbing, leaked anonymous comments, etc. Once again, Republican candidates would have been knocked off message and the MSM would have been framing the debate on behalf of their Dem buddies.
I'm getting the sense that most people - those who even know the whole story - have gotten to the point where they are just sick of hearing about it.
I actually hope Democrats keep trying to make this an issue. Because it'll come across as petty and underscore yet again to undecided voters that they offer absolutely nothing beyond "we're not them".
With five weeks to go - a long time in politics - the GOP's next step is to get back to the three issues that drive their base: fighting terrorism, protecting tax cuts from expiring and appointing judges.
And, oh by the way, if they don't than you could be looking at this: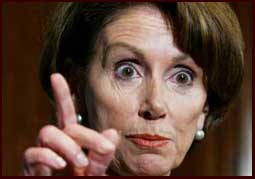 Speaker Pelosi. **shudder** Just in time for Halloween.
Posted by: Gary at 11:05 AM | Comments (4) | Add Comment
Post contains 280 words, total size 2 kb.
Posted by: Jenn at October 06, 2006 04:05 PM (QD9ey)
Posted by: Scrapiron at October 06, 2006 07:06 PM (GIL7z)
Posted by: Skye at October 06, 2006 07:50 PM (6vZ0D)
Posted by: jOHN RYAN at October 07, 2006 05:29 PM (TcoRJ)
Comments are disabled. Post is locked.
16kb generated in CPU 0.0501, elapsed 0.0934 seconds.
114 queries taking 0.0846 seconds, 233 records returned.
Powered by Minx 1.1.6c-pink.