September 01, 2006
Mexican Standoff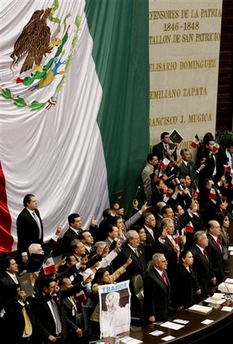 Mexican Lawmakers Block Fox's Speech

MEXICO CITY (AP) -- Vicente Fox was forced to forego the last state-of-the-nation address of his presidency Friday after leftist lawmakers stormed the stage of Congress to protest disputed July 2 elections.

It was the first time in modern Mexican history a president hasn't given the annual address to Congress. Instead, Fox handed in a written copy of his report, and his office said he would address the nation in a televised speech later Friday.
Lawmakers breaking the law...well..isn't THAT ironic?
The standoff came six days before the top electoral court must declare a president-elect or annul the July 2 vote and order a new election. So far, rulings have favored ruling party candidate Felipe Calderon, who was ahead by about 240,000 votes in the official count.

Lopez Obrador has already said he won't recognize the electoral court's decision, and he plans to create a parallel government and rule from the streets.
It really is time to start building that border!
Protesters occupying Mexico City's center said they were ready to do whatever it takes to support Lopez Obrador. Fernando Calles, a 26-year-old university professor, said he was ready to fight for the former Mexico City mayor "until the death, until the final consequences."

"We lived 500 years of repression, and now we represent the new face of Mexico," he said.

A 26 year old Uni Professor is the face of Mexico - just like Moveon.org is the face of the DNC. Let me repeat...we really need to seal the border...NOW!
Fox, a former Coca-Cola executive, ushered in economic stability and brought inflation to record lows, but he has been unable to secure a migration accord with the U.S. or significantly reduce poverty.
I would imagine President Fox will soon be consulting The Guide for the Mexican Migrant
Posted by: Skye at 10:28 PM | No Comments | Add Comment
Post contains 307 words, total size 2 kb.
Comments are disabled. Post is locked.
15kb generated in CPU 0.06, elapsed 0.1811 seconds.
118 queries taking 0.1509 seconds, 227 records returned.
Powered by Minx 1.1.6c-pink.